Voluntourism & Orphanages, Challenges Remain
In Cambodia, Friends-International has worked closely with the Government, other agencies and partnerships such as 3PC, for over ten years now in ending the plight of the thousands of children who have been unnecessarily placed into residential care in orphanages.
Our ChildSafe campaigns have spoken out to millions, including the individuals and foreign donors who support these institutions, and the voluntourism element wanting to do good for children, pointing out how their good intentions are often misguided, and that these children should be back with their families, or in family –based care.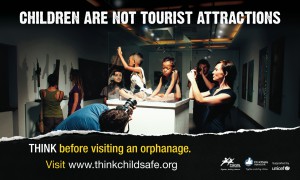 Much has been achieved to date in not only placing the spotlight onto bad and harmful practice in orphanages, but in also reintegrating children with families and supporting them into better lives. Our program in Siem Reap has, for example, recently worked with ten youth coming from three local orphanages – six have found jobs already, and four are still doing their vocational training and will soon be helped into employment.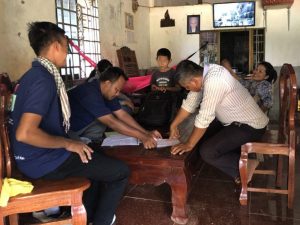 Some orphanages have even begun to transition into centers which provide the nearby community with services, but that children do not stay over in. However, there are still challenges in these models which we need to address.
In one instance a few years back in the Siem Reap area, a local monk had been 'recruiting' children from vulnerable families into a nearby orphanage. The families felt that this was a person they could trust, however reluctant they were to give their children up into care. Unfortunately, this was one of the many instances where that trust was misguided… the "orphanage" was actually a hub for short term foreign volunteers. In short, the all-too prevalent business model of a bad orphanage: exploiting children, breaking up families and preying on the good intentions and generosity of unskilled foreign volunteers, visitors and donors. The monk who was encouraging parents to give their children up into care eventually gave up his calling too and took a job with that orphanage!
The Ministry of Social Affairs in Cambodia, in line with its policy, carried out an assessment of the orphanage in question and since it did not respect standards and was deemed harmful to children, it was shut down. Friends-International and the 3PC Partners were asked to support the reintegration of the children back into their families in that village. In this case the process was quite easy as the situation of these families was actually rather good, emphasizing that bringing them into care had really been unnecessary.
However, it did not take long for this "orphanage" to reopen under yet another business model, re-branding itself as a "community center". They kept the system they had used before, accepting large numbers of foreign volunteers who live in a dormitory on-site and deliver English lessons and other services during their time there.
On the surface, this may appear OK. We managed to reintegrate children into their families and no child is living in a long term institution they do not need to be in. However we still have the issue of untrained, unskilled and often very young volunteers being giving ready access to children, volunteers themselves being exploited for gain by the volunteer placement organization who organized their trip, the short term relationships building between volunteers and children still being readily severed, and of course the revolving door of volunteers means a serious lack of cohesive curriculum in the learning process. Children may be learning, but all too often it is the same very basic lessons they receive, which is harming  their longer term development and their future opportunities.
The volunteer business is a lucrative one – recent research by APEC found that over 50% of the 10,000,000 annual worldwide placements are estimated to be children/education based, and the voluntourism industry generates profits of $2 billion annually. Currently there is no overall regulatory framework for this industry to comply with. Our ChildSafe Movement has worked alongside leading travel industry and child welfare players however to create a comprehensive set of Guidelines for Child Welfare in the Travel Industry which address the issues with volunteers, voluntourism and orphanages and provide tools for all to take positive action, including the ChildSafe 7 Tips for Travelers. The complete Guidelines can be downloaded for free at this link.
There is growing support for the ending of voluntourism activities which may place children at risk, however it is clear that much has still to be done to ensure that we are truly building protective environments for all children. Environments where they can thrive safely – with their family, in their own community.
We still very much need the proactive support of all the global community, acting in a ChildSafe manner, to Join the Movement and help us achieve that goal.