Kaliyan Mith Siem Reap – Meet The Family Reintegration Team!
We are focusing our posts this week on the work of our Kaliyan Mith program in Siem Reap, Cambodia.
Reintegration is a core approach of Friends work – into school, into employment, into society, and of course, into family! This is why our family reintegration teams are so important. The photo here is of the Siem Reap Kaliyan Mith team, and was taken in front of the transitional home (TH). Projects run by the team include  family reintegration (incl. family tracing, family assessment, working with families to stabilize them before a child's return), TH and Foster Care (with 15 professionally trained foster carers, and with the support of our excellent partner Angkor Hospital for Children).
So let's meet the team!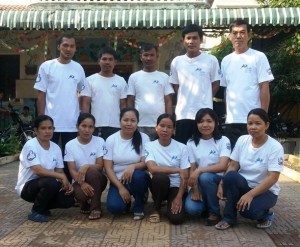 Standing L – R
Chorn – Family+ social and Foster care social worker,  Chanthol – TH Family reintegration social worker, Chantha – TH team leader and house father, Sith –  family reintegration project manager and Narith – TH team leader and house father
At front , R – L  (just to be different!!)
Sokong – TH care giver for children with special needs, Thab – TH family reintegration social worker, Som – TH house mother, Chariya – TH Cook, Nary – TH care giver for children with special needs, Bopha TH house mother.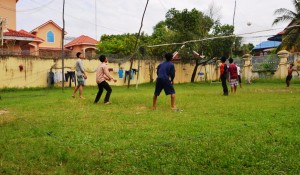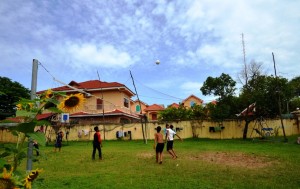 (above pics)Playing volley ball in the TH yard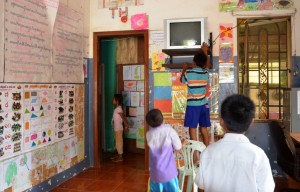 (above pic)Inside the TH.
On the left are house rules that the children write themselves and review every 6 months. They are very involved in how their home runs! The children also elect 2 representatives from their group every 6 months to represent them, and there is an anonymous feedback box that the Project Manager checks a couple of times a week. Full capacity of the TH is 50 children – most children come from police diversion, hotline reports and the outreach team. Many of the students are studying Vocational Training. The TH is strictly an emergency option and is a last resort (we try for reintegration, foster care, or our semi-independent living group homes first). Children under 3 years of age automatically go to foster care. Children with special needs are assigned to an individual caretaker, and all the children call and visit family regularly (if family is known).