A School Is Born!
Phnom Penh, Cambodia is a fast -growing city. What were once underdeveloped poor community neighborhoods are being targeted by developers, bringing in large workforces to complete massive building projects. These workers most often bring their families with them too, and conditions for the children of those families, including their access to services such as health and school, can be very difficult indeed.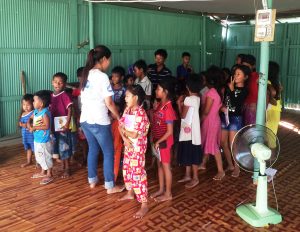 The Mith Samlanh program team was shocked to discover that in one large project in the Chbar Ampov district of the city, more than 1,000 persons, including many children, were living in one housing compound. Workers live with their family and children in one small room with very basic services and the majority of them have more than two school age children living there while they work during the day. The local public school is too far (more than 3km) away so the majority of the children do not go to school and have no opportunity to learn.
The Mith Samlanh team assessed the situation, and started an education project with funding support from Juniclair & Atoz. The team identified a location outside the residential compound where free lessons could be provided to children in the area. The classroom is actually in an ideal location, located very close to the worker residences. Opening in March 2017, within a fortnight more than 30 children (50% of them female) had come to attend the remedial and support classes on offer there. Talking with the parents and the children their happiness was very evident.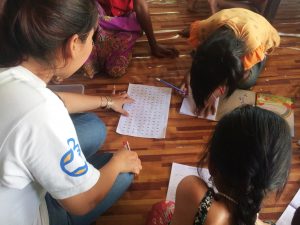 Parents expressed their gratitude for the school, delighted that their children could learn how to read and write, without the dangers and costs of traveling far to attend the nearest public school. The children themselves are very eager to learn and have started to bring their friends along too.
What is also impressive is that the parents have begun to accompany their children to the classes and are becoming very interested overall in the work Mith Samlanh does for those who lack opportunities. In anticipation of increasing numbers of students in the coming months, teaching at the brand new Boueng Chouk community school will be extended from two sessions a week, to five times a week in the mornings, allowing more children their right to access education!