'That Was The Year That Was' – 2013 In Friends!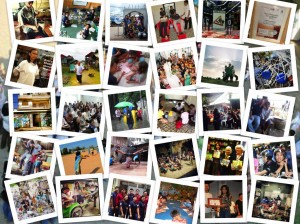 As we stand on the cusp of 2014, and the 20th Anniversary of Friends-International, please join us in looking back over the last 12 months of our activities and just some of the highlights of that year – a whistle-stop tour of 2013!
January: Attending the World Economic Forum in Switzerland, being recognized as one of the Top 100 NGO's In The World for the second year in succession and student graduations in Laos (plus a visit from Miss Minnesota!) made this a memorable start to the year.
February: Strategic planning well underway, the start of our Family+ program, a fact finding visit to Mith Samlanh in Phnom Penh from a US Congressional delegation, a German TV special on orphanage tourism, a Japanese University filming in the office and the launch of the French language edition of our Laotian cookbook were just some of this month's highlights.
March: This month saw the start of our Jakarta Program, the Amazing Acoustic Picnic wowing the crowds in Phnom Penh and a prestigious Miele Guide Award for our Makphet Training Restaurant in Laos.
April: A very busy month with the Skoll World Forum then on to our board and sharing meetings, some management training (and Khmer, Thai and Laotian New Years!) sandwiched in between and another Miele Guide Award, this one for Friends The Restaurant!
May: Friends featuring in Forbes Magazine in an article on the orphanage issue, the launch of our Cambodian ChildSafe Citizens Campaign, celebrating partner M'Lop Tapang's 10th Anniversary and the launch of a book, 'Unsung Heroes' featuring our work all took place this month.
June: A Friends delegation visits Myanmar to attend the World Economic Forum meeting and to move forward plans for a Friends program there, the ChildSafe 7 Tips are made available at Vientiane airport in Laos, Friends Thailand attends the first Eco Fair in Bangkok and a team of young people from Singapore School Of The Arts come to work with Mith Samlanh students on an Art and Video project.
July: A partnership with Green Tourism Cie begins, our new office opens in Bangkok (and work begins on a new Friends 'N' Stuff shop there), Friends Thailand start bringing ChildSafe messages and training directly into communities in Bangkok, students from the National University of Singapore spend time learning about our social enterprise model in Makphet Restaurant, Laos,  and ChildSafe International Coordinator Tito blogs for Huffington Post.
 August: We say 'au revoir' to Café Mith Samlanh this month, CYTI and ChildSafe visit current and potential partners in Manila and Cebu (Philippines), a project tackling alcoholism in communities gets underway in Siem Reap, Cambodia, and in the media UNICEF feature our Vocational Training in Siem Reap and German TV channel ARD broadcast a piece on our orphanage tourism campaign.
 September: Highlights include the launch this month of social businesses in Siem Reap: mechanics, beauty shop, printing etc. plus the start of a community based school in in the city and reintegrations and graduations taking place, the first ChildSafe certified guest house in Manila, a video featuring our work on the UN Global Compact Action Hub and the CSR-Asia summit in Bangkok.
 October: The Luang Prabang Half-Marathon takes place, raising money for a training restaurant which is now in the preparation phases, the first ChildSafe Community training takes place in Laos with 175 people trained – in Bangkok 1050 receive ChildSafe training, CYTI visits Vietnam and identifies 2-3 potential new members, the third Cambodian Social Enterprise Conference in Phnom Penh, co-organized by us, is a great success, floods affect many of the families we work with in Cambodia and Thailand, storms damage the Mith Samlanh Center in Phnom Penh and Sebastien's blog on Pity Charity (which will have far reaching impact) is first published
 November: The new Friends 'N' Stuff shop in Bangkok opens, the ChildSafe 'THINK' Campaign in Siam Center Bangkok is a great success and ChildSafe also go on to win a Responsible Tourism Award at the World Tourism Market in London!
 December: More success and recognition for ChildSafe as they win First Prize from AGFund, a new product line of t-shirts is launched, the 'Borders To Margins' photo book on migration supported by Friends is published, the Thai Department of Tourism sign ChildSafe certificates, endorsing our project, a video shoot about our drugs work takes place and we say a final goodbye to our old office in Phnom Penh in what turns out to be a massive move!
 So, farewell 2013… and we say 'thank you' to all friends and supporters of Friends-International for being with us throughout the year. Soon we will be celebrating the start of 2014, a new year of building futures, and for us it's a very special one as it's our 20th Anniversary Year – we hope you will also continue to be with us, supporting us on our mission to help children, young people, families and communities realize their potential for a better, brighter future.
Happy New Year!