A Bite of a Better Future
The ongoing crisis in Myanmar is not enough to block the cooking dreams of a young man. When Mon* had to stop his formal education, he pivoted and found his true vocation. He found the LinkAge (Training Restaurant) Facebook page and saw the training being offered to young people who would like to start their career in the food and beverage industry. He found the courage to inquire and arranged a meeting with Tha Ngae Chin Myar (Friends Myanmar) staff as soon as possible. 
Mon's father passed away when he was very young. His mom has been working her hardest to provide for him and his younger sister at a snack factory. For his mother, the dream was simple, it was for Mon to grow up and be a good man whom his family can depend on. Mon however, wanted to do more for his mom who has been supporting him and his sister single-handedly all these years.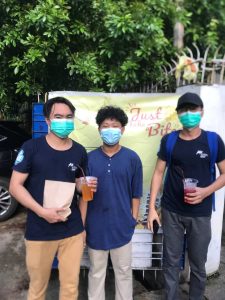 So Mon got into the cooking training program with LinkAge and he was the youngest student in the batch. He faithfully attended each class and showed how he loved learning about food. He loved learning with his classmates and teachers so much that after completing his training, he decided to be an intern at LinkAge Restaurant for two months. His hard work paid off when he landed his first job in the fast food company called Cheesy Bites!
Our youngest graduate is now happily building better futures for himself and his family one 'cheesy' bite at a time.
To support the work of the #everydayheroes of Friends Myanmar and our other programs, please click here: www.friends-international.org/donate
*name changed for privacy