On The Road
This story comes from our Peuan Mit team who are based in Vientiane in Lao PDR, and highlights an issue that is very much in the news across SE Asia – road safety.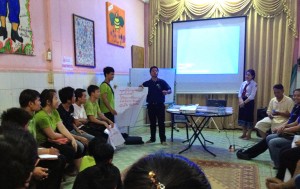 Peuan Mit staff, alongside vocational training students from the mechanics class and Makphet training restaurant in Vientiane have participated in a two part safe driving training course delivered by Belgian NGO Handicap-International.
The course  ('Accident prevention and safe behaviors on the road') , which was provided without cost, resulted from Peuan Mit agreeing to promote safe driving,  and represents a further extension of good behavior to act as role models in communities .
Road safety is a major issue in Laos; it is also hugely  important for our students who spend time on the roads, traveling between training and their dorms or homes. Information from the Global Road Safety Partnership indicates that the number of road crashes and casualties is increasing.  The most recent confirmed figures  from the Government of Laos reported that 765 people died in crashes in 2009, a six-fold increase since 1990. Initiatives such as this may literally be a life saver for the young people who participate in them.