Bordering On Crisis – Migrants At Risk
The enforcement of a new Royal Decree cracking down on illegal migrant workers in Thailand has resulted in increasing pressure on 3PC partners within the last two weeks who work with migrants at the Poipet/Aranyaprathet border between Cambodia and Thailand, and has also impacted upon work our Peuan Peuan team and others are doing in construction camps in Bangkok city.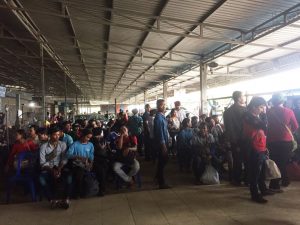 Over just five days this week, Damnok Toek, who operate a drop-in center for deportees in Poipet along with 3PC partners Peuan Peuan and Krousar Thmey, recorded over 70 trucks bringing deportees back across the border into Cambodia. Of the 3,643 deportees recorded from those trucks, 1,296 were women and 392 children.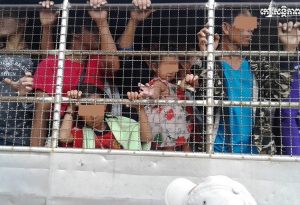 3PC partners are mobilizing their networks in the area, including the local authorities, to respond to this unprecedented influx and to ensure that services and support can be provided for migrants as they continue to stream over the border.In Bangkok, Peuan Peuan and partner Better Life Foundation are currently not able to provide services to their target populations in construction camps – some have closed down and the both legal and illegal migrant children and families involved are suffering as a result. Some of them have been arrested, while others have gone into hiding. Peuan Peuan continues to closely monitor the situation there and in other provinces, where a similar pattern is in evidence. Arrests are taking place in Pattaya, Rayong, Sa Kao and along the Thai/Cambodia border, and at Me Sort, Tak province on the Thai/Burmese border hundreds of unregistered Myanmar workers have returned or have been arrested & deported.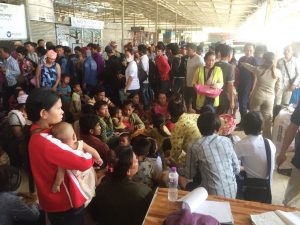 3PC have a challenging time ahead as the Thai authorities in Aranyaprathet have confirmed arrests and deportations will continue, and employers are continuing to lay off their illegal migrant workers, increasing risks of abuse and exploitation to them. In the meantime, partners will continue all efforts to support the deportees to reintegrate safely back to Cambodia, and will continue to press for ensuring the rights of all deportees are being met.