Microscholarships for Peuan Mit Students!
Last month, the US embassy in Lao PDR approached Peuan Mit to identify youth for an English Access Microscholarship Program as they were striving to find the most disadvantaged students in Vientiane.
This highly effective training program is designed to provide a significant English-language learning experience to bright non-elite 14- to 18- year-old students. Funded by the U.S. Department of State's Bureau of Educational and Cultural Affairs, it also has the goal of encouraging critical thinking and open-mindedness, and improving performance in regular school classes. Launched in 2004, the Access Program is worldwide.
The program in Lao PDR is a collaboration between the US Department of State and Vientiane College. The participants are engaged to learn English three times a week and also go on field trips, have sporting activities, arts and crafts and receive study/careers advice while bonding with each other and former graduates.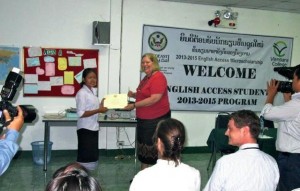 We are very happy that three youth (who have worked closely with Peuan Mit)  applied for this program and were granted microscholarships and accepted into the program after the selection and interview process, and that other youth were identified from our community outreach.

Our photographs show the U.S. Ambassador to Laos, Karen Stewart, with the student intake.