Together Into The Future, Building Futures!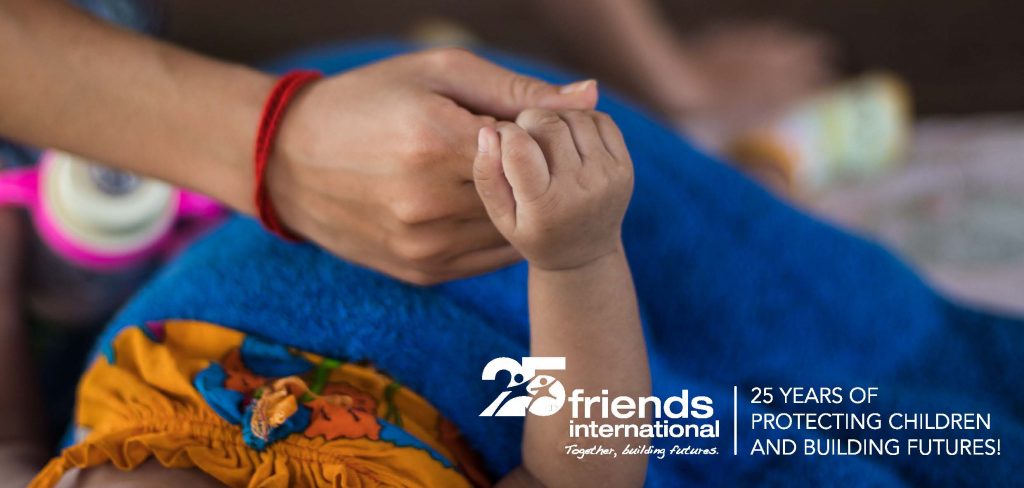 We began our 25th Anniversary celebrations in August 2019. 25 years of finding effective and meaningful ways of 'Together, building futures' for the many children, youth, families and communities we call our friends.
As always, 2019 also saw many new challenges arising. More importantly, it saw many new opportunities too. The launch of FUTURES Factory in May, the continued expansion of ChildSafe (including the new ChildSafe Experience) protecting children across the world. The incredible partnership work of Friends Alliance/ChildSafe Alliance partners, particularly the 3PC network. These were all reasons to celebrate and to look to the future, a future where we can do even more to support those who need a helping hand to meet their hopes and dreams.
Thank You
Thank you to all who have come with us on that journey over the years. Thanks to the #everydayheroes in our programs and partnerships. Your hard work, determination, dedication and caring is so much a part of building futures. Thanks to our wonderful supporters and donors who believe passionately in what we do and give us the means to do it. Also, a heartfelt thank you to those we work with. Thank you for putting your trust in us, and for rising alongside us to fulfill your potential – you are truly amazing!
Moving On
We'll move into 2020 with just one story from a social worker at one of our Friends Alliance programs. Not an easy read, but one, like so many of our stories, that holds out real hope for the future, and shows how much care our #everydayheroes invest in their work…
From all of your friends at Friends, we wish you a very happy and peaceful New Year 2020. Thank you so much for being part of our journey.
'Together, building futures!'
Hope For The Future
"Sothea* was only three months old when we first met him. His dad Sony* brought him to us, really concerned as Sothea was pretty sick – he had diarrhea, was very underweight and had a growth under his eye. Dad was a drug user. He knew he couldn't give the care needed to support his son unless he came off drugs. Mum had disappeared – she was a drug user also, and had mental health issues. We got as much information as we could from Sony to try and find her.
Sony really wanted to end his drug use. He wanted to take part in our detox program. He was also adamant that he wanted us to take care of Sothea until he was able to take his child back and care for him safely. First steps were to enrol Sony in our detox program, and as Sony wished, bring Sothea into temporary care. It's important for us to ensure children are with their families (the best place for a child to be), so we discussed with Sony about finding a safe place for Sothea with someone from his family .
After a couple of weeks staying in our transitional home, we were able to move Sothea in with Sony's great aunt. We support her (alongside a partner organization of ours in the area where she lives) to care for little Sothea. Following the successful completion of his detox program, we also enrolled Sony in our cooking vocational training.
Future Plans
So, the situation now is much more hopeful. We and our partners check on Sothea regularly. We provide whatever support the family needs to help him thrive. He has gained weight, and with medical support the growth on his eye has reduced in size. Dad Sony will graduate soon and then be placed into a job, so he can have the means to support his child himself. We're still looking for Sothea's mum, and when we find her we'll make sure she gets support to help her too.
That's what 'Together, building futures' really means. Organizations, partners, parents and families all coming together to get a good result, and help babies like Sothea have a better start in life, and a better future."
names changed to protect identities