First Step to Better Futures
The busy Bo Ta Daung Port in Kyauktada Township, Yangon in Myanmar is home to a bright seven (7) year old girl, *May. Everyday she would wake up to the hustle and bustle of the arrival and departure of boats and the racket of moving vehicles. She would go out of their makeshift tent by the street road to greet a brand new day. Her mother, Lin* is a street vendor and her father, Bo* is a trishaw driver. 
Although very young, May helped her mom selling watermelons. She has not been at school because of COVID19 and the unstable political situation. One day in February 2022, as the #EverydayHeroes from Tha Ngae Chin Myar (TNCM) were on their outreach in the Bo Ta Daung Port area, they met Lin and learned about her family's situation. Lin wanted May to start learning because May has not been able to have any access to education.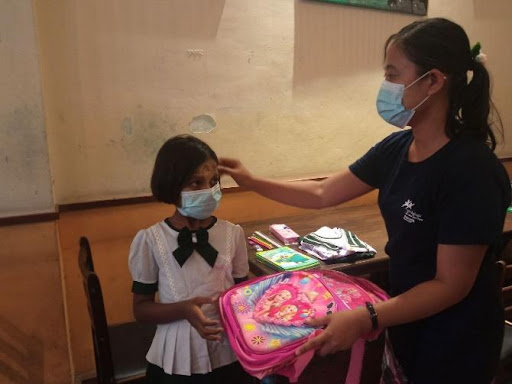 So May made her first step into education with TNCM. She went to the summer program organized by TNCM when the political situation was a little less unstable. While she was in summer school, May's family had to relocate because the government had decided to clear the area where their make-shift tent was. TNCM assisted their family to find a rental home and provided some added support: monthly emergency support of basic supplies for their day-to-day living and monthly rental fee support until they can pay on their own. No longer living on the side street, May and her little brother have a much safer environment to live in.
To help May's parents sustain their family, TNCM supported Lin with some funding to get her set-up with her small business of selling fruits and vegetables. Lin is now on her way to generate income to have a steady business and pay their monthly rental fee. Because of the support of TNCM and the hard work of her parents, May was able to keep attending TNCM's summer school and in no time at all, her brother joined the non-formal education classes in the TNCM center.
Come June 2022, May was all ready to finally start her academic year at the government school. With a well-equipped school bag in tow, thanks to TNCM, May enjoys her new found friends and is happily learning at her new school.
*names changed for privacy
Tha Ngae Chin Myar is part of the Friends Alliance. To support the work our #everydayheroes are doing, please visit our website www.friends-international.org