Focusing On Young Women's Health in Lao PDR
This week the Friends Laos Peuan Mit team (with support from the Laotian Ministry of Health) organized and facilitated a focus group discussion at the Drop In Center in Vientiane among out-of school girl children (six of them, aged from 9-12 years) and their mothers. The focus of the group discussion was to understand their knowledge, attitudes and practices in relation to cervical cancer, general immunization, Human Papillomavirus (HPV) infection and the new HPV vaccine.
The Laotian Ministry Of Health will be providing the HPV vaccine for free to a target group of girl children aged 9-12 years, both in and out of school in the capital Vientiane it's surrounding provinces. The Ministry was eager to learn more about the existing knowledge this group has on cervical cancer and the new HPV vaccine.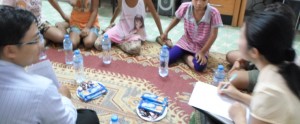 The information gleaned from this study will be used to develop  Information, Education and Communication (IEC) materials which will assist in providing health education to the target group of girl children in order to increase their awareness and acceptance of the new vaccine.