ChildSafe Works In Laos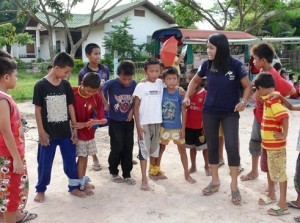 This post about the positive impact of the ChildSafe project in Lao PDR comes to us from Kristi, Technical Advisor to our program there, Peuan Mit.
'The ChildSafe project in Lao PDR, funded by the European Union,  aims to build the capacity of Lao civil society and Government to promote child rights and address child rights issues at grassroots levels. The expected results of the activities include: 1. The Lao population, civil society organizations and authorities have increased knowledge on child rights and the situation of child abuse in Vientiane Capital; 2. Key community members have improved knowledge on children's rights and enhanced capacity to identify and refer cases of child abuse; 3. Efficient response mechanisms to child abuse cases are better implemented, promoted and coordinated.
This story tells how ChildSafe responded to help one young person who was suffering abuse. Recently, a school teacher from Xaythany District in Vientiane noticed that one of her 12-year old students never smiled. Upon looking closer, she noticed marks on the child's arms. Unsure about what to do, the teacher informed the school administrator. The administrator had a family member who is a ChildSafe Member (recently certified by the project in November of 2013). The Member proceeded to call the ChildSafe Hotline, one of the services provided by the project and currently managed by Peuan Mit, the Friends-International program in Lao PDR. A Peuan Mit social worker then met with the school and provided basic counseling to the child. She worked with the administrator and went to the Village Chief Authority to discuss the family's problems (negative discipline resulting in physical abuse), and to help find a solution to stop the abuse. Had the recent ChildSafe Member not received training on child rights and protection, it is possible that this case might have gone unaddressed, resulting in further harm to the child. Today, the Peuan Mit social worker, school and village authorities coordinate follow up activity with the family to assure the abuse has stopped, and the teacher reports the child is smiling again in class. The school is now more aware about how to handle cases of abuse and will become officially active in the ChildSafe Network by training new members. The long-term effects resonate in the community as child rights knowledge is expanded and an efficient response mechanism of protection gains strength.'