Beauty Builds A Future For Srey Leak
This uplifting tale of how one of our students overcame real adversity to build a future for herself comes to us from Sokanha Vuthy, our Cambodian Communications Officer.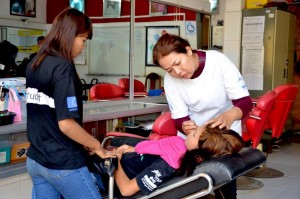 "This is the story of one 20 year-old girl who came from Takeo Province, Srey Leak*. She is the youngest one in a family of seven and the only daughter in the family. She lost her mother (who was a street seller) when she was only 1 year old, followed by her loving dad (who was a chef). The family situation was not good as they were very poor. He used to beg for food and vegetables from the local markets for feeding her and her brothers. They used to sleep without rice for many times as her dad couldn't make any money. It was a terrifying situation for her.
As she was an orphan, survival was very challenging. Even with six brothers, however she couldn't depend on them since they were also living in the same bad situation. That's why she moved to live with her oldest married- brother whereas the other five brothers managed to survive on their own. She had always had conflict with her sister-in law who used to beat her up many times which she cannot forget. She eventually had had enough, and decided to leave their home and moved into her grandma's house in Phnom Penh. That's when she started working illegally as a garment worker when she was only 14 years old. One year later, she switched jobs to be a car washer as she couldn't stand the long and hard hours of garment work.
There is where she found herself very fortunate to meet a former Mith Samlanh student from the barber class who introduced her to the organization. He told her about the entire range of services that Mith Samlanh provides to young Cambodians like her. Then, she got the address from him and went to the Mith Samlanh center. She met the Mith Samlanh staff there and got to learn a lot more about its program. Mith Samlanh's staff showed her around the center which she found  very interesting and impressive. Soon after, she was asked if she would like to choose one among the seven vocational trainings provided. It was a difficult decision as her favorite training was cooking as she always wanted to be a chef just like her dad, however, beauty was her absolute final choice as she thought it wouldn't take long before she would be trained and in employment.
In the training, everything was FREE, including transport, food, and the many other necessary facilities such as education and sports. She really appreciated  all the support she got when needed from all the teachers there. She felt pretty close to them, even thinking of them as her 'parents'. Furthermore, she also had English and Khmer literacy class and cultural activities, which she really enjoyed. She feels her life has definitely changed for the better.
Now she works as a hairdresser at a private salon in Phnom Penh where she earns well to support herself and has managed to buy a new motorbike from her own salary.  She likes this job a lot as she is improving her hair cut and make-up skills very well.
In the future, she wants to have her own salon set up and running smoothly. Looking ahead, she wants to extend her ambitions to become a wedding planner which is very popular and sought after in Cambodian society. And her final wish? To build her own house and have a happy family herself."
*name changed to protect her identity