Troubled Youth, Back on Track
*Dara, only 12 years old, has earned a bad reputation in his community. People say things like 'the boy is up to no good and a persistent problem for his family. He steals when he is hungry and does not listen to his elders. He has been arrested by the police during one of his stealing sprees. Is there any hope for this kid to have a better future?'
Dara has had a challenging upbringing; his mother is absent and his father is violent and alcoholic. He has also not been attending school. Dara has been staying with his grandmother where he has safer shelter and is provided some meals.
Dara's grandmother felt hopeless. She knew she needed help for him to have a chance at a better, more peaceful life. She sought the help of the Village Chief to see what could be done for her grandchild. The Chief talked to the Office of Social Affairs and Social Welfare (OSASW). OSASW got in touch with Kaliyan Mith Siem Reap (the Friends-International program in Siem Reap) to find out what they could do to help to improve Dara's situation. Kaliyan Mith also needed to help support the grandparents to provide for Dara, with the grandparents receiving little income from their poultry raising efforts.
Kaliyan Mith went and met with Dara and his grandparents. They inquired about his background and current situation to understand more about Dara's challenges and the challenges faced by his grandparents in supporting him. Together with Dara and his grandparents, Kaliyan Mith drafted an action plan to address the range of different issues affecting Dara and his family.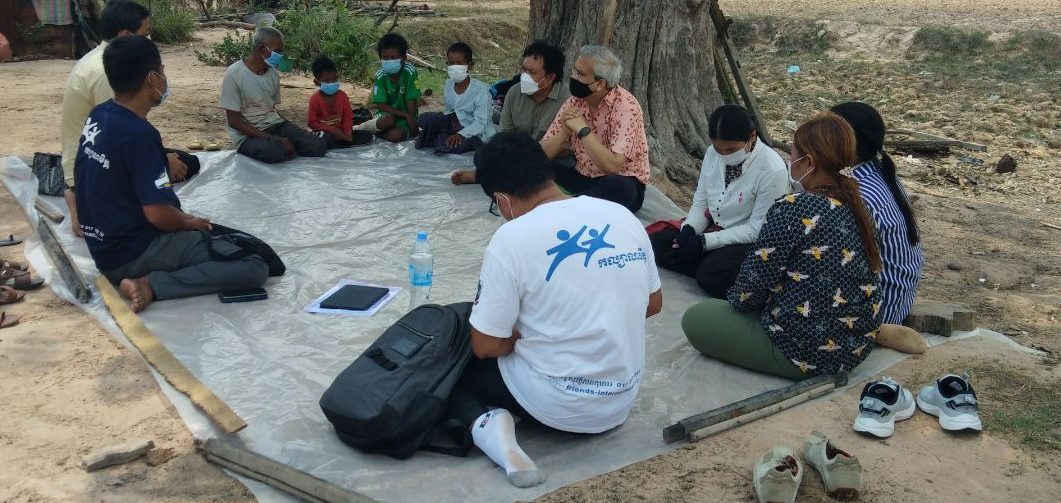 Kaliyan Mith and OSASW worked with Dara's grandparents in improving their capacity to support Dara during this challenging time. They were provided with positive parenting training which included ways on how to deal with Dara when he does wrong without using physical violence. Dara's grandmother also received anger management training. For Dara, a social worker and officer of OSASW worked with him in counseling sessions to understand him further to work on improving his attitude and behavior for the better. Kaliyan Mith and OSASW have also made efforts to work with Dara's father, but he is refusing to engage.
Dara slowly opened up and began improving his behavior towards his family members. All was well and good until April 2022.
Just before the Khmer New Year, Dara had an accident while riding a tractor and was rushed to the hospital. Kaliyan Mith Siem Reap readily supported his medical expenses in the hospital and the medical expenses he incurred when he was transferred for better care to a referral hospital. He had a leg brace and cast installed on his leg and was discharged to continue recovery at home.
He recovered well and in no time at all, he was back running and riding his bicycle. Dara no longer commits petty crimes in the community and is living happily with his grandparents.
Kaliyan Mith continues to work with Dara and his family to support their many needs,  and to ensure that Dara will have access to the best opportunities to build his future in the coming years. The team is supporting Dara towards reintegration to school, and they have referred the grandparents to Futures Employment to explore ways they can increase their income generation in helping to provide for Dara. 
*name changed for privacy