A Family in Crisis (BKK)
A family was in crisis. The small grocery business which *Phaibun, a 54-year old grandmother of seven (7) had set up with her savings was not making enough to provide for her family's daily needs. Her husband, a taxi driver, had his earnings affected badly by Thai government lockdowns throughout Bangkok and neighboring provinces due to COVID. Her sister, who lives with them, suffers from cancer. Phaibun's 80-year-old mother also had to be tended to because she was bed-ridden and sick. Her son was recently released from being in jail (he was incarcerated two years ago for pouring hot water on his niece). He is suffering from mental illness and after his release he turned to using drugs again and causing further difficulties with his family.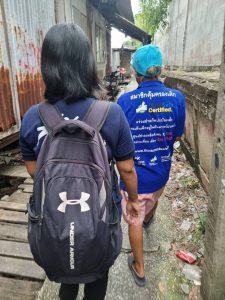 One day, her son was being violent with the other family members, Phaibun called the Peuan Peuan hotline to report this emergency and to ask for support with medical costs. She also informed the police, so her son was arrested and sent to  jail. Phaibun called the Peuan Peuan team again (staff and ChildSafe Agent) who quickly responded and called for police support to Phaibun's residence. Her son was taken to hospital shortly after for treatment for his mental health issues. 
In the days following that event, Peuan Peuan staff came back to see how the family was doing and to find out what else could be done to support them. Peuan Peuan decided to bring emergency food support and other basic supplies to the family in addition to covering her son's medical expenses for being in treatment. Four of Phaibun's grandchildren also received school materials support and two of them were registered in summer school to continue their education.
Phaibun continues to run her small grocery store with one of her older daughters and Peuan Peuan regularly visits their family to ensure that they are moving towards building a better future for themselves .  
*Name changed for privacy