Who Are The #everydayheroes ?
It's simple really. They are the women and men who work around the clock every day delivering over 1.6 million services each year to the children, young people, families and communities Friends works with.

They are the teachers, social workers, doctors, trainers, administrators… our program staff who make those services work to support over 60,000 people a year, bringing them back from the margins of society to being productive and empowered citizens.
This time of year is for many cultures a time of giving. It's also a time when the NGO world steps up to make sure that some of that giving comes their way. When the glamorous airbrushed icons fronting or supporting million dollar organizations bring out their big stories to make sure you give…  when the international organizations who really should know better churn out distressing images of flyblown crying children that drive you to pity and generate funds…
We are no different in one way. We need your help, not just now, but all year round to keep our programs running. However, we will not use images of children in distressing situations, nor elaborate fictions to get that help. Instead we will focus on the people who do that work, our #everyday heroes – if you wonder why, just read this.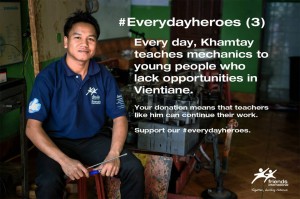 If you believe in our  #everyday heroes as much as we and the children, young people, families and communities they work with do, then please support them –   click here. You can also like us on Facebook and follow us on Twitter!
James Sutherland
International Communications Coordinator
Friends-International