Children's Day – Partners In Child Protection
ChildSafe Movement are delighted with the recent recognition of leading travel business G Adventures as the first ChildSafe Certified Global Travel Organization. Certification involved a stringent review of G Adventures processes and policies to ensure they met the ChildSafe 7 Standards of Good Practice. The certification process also included collaboration on G Adventures Code of Conduct, Child Protection Policy, online training and the creation of a dedicated task force to ensure a comprehensive monitoring system is in place and functioning well.
The good practice inherent in the certification process will now be implemented by G Adventures in their affiliate partner network, ensuring that child welfare, protection and the best interests of the child will be reflected throughout all their products.
Sebastien Marot, founder of Friends-International, who power ChildSafe Movement, has this to say on the partnership –
"Many congratulations to G adventures on achieving their certification and leading the way for the travel industry in child protection. This is also a significant step in reinforcing the ChildSafe Movement as a truly global movement, reaching out through a comprehensive training approach to create child protective environments across the world."
G Adventures have also worked in very close partnership with us at ChildSafe on the creation of the very first Global Guidelines for Child Welfare in the Tourism Industry. This is a free online or downloadable resource for all in the industry including a wide-ranging set of tools alongside detailed implementation guidance. ChildSafe and Friends-International are delighted to give our full support to G Adventure's consumer fronted campaign around the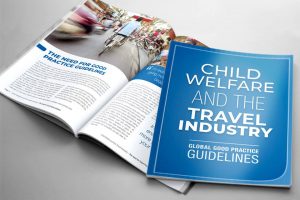 Guidelines, which will launch today, on November 20th 2018, World Children's Day. Among activities on the day G Adventures will host a Facebook Live Event answering questions on how responsible travel practices can protect children. The themes of Children's Day include improving child welfare worldwide, and the promotion of children's rights which are keystone elements of the Guidelines.