Thumbs Up From Our Friends In Japan!
Japanese NGO C-Rights are long term supporters of Friends-International, and have a particular interest in our ChildSafe Network child protection activities.
C-Rights work to promote children's rights in Japan and among many resources provide a Japanese translation of the ChildSafe '7 Tips For Travelers' on their website. Every year several study groups from the organization visit Cambodia to learn more about child protection and child rights in the country, and during that trip they pay a visit to Friends-International for presentations on, and discussions of, our work.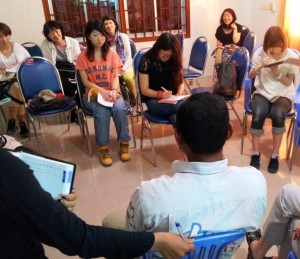 This week they visited our new office in Phnom Penh, and after a presentation based on a case study from our programs, the C-Rights team had the opportunity to talk to a ChildSafe tuk-tuk driver, Mr. Sunny, who has been a member since 2005 when the Network began.
We are now looking to consolidate the expansion of the ChildSafe Network, with a call for all, individuals, businesses, communities to 'join the movement' toward global child protection, so the active participation of organizations like C-Rights is a real boost to our efforts – we are all 'Together, Protecting Children'!