'Serving Up Futures – Chefs Can Make A Difference!'
In our guest blog today, TREE Alliance Coordinator Gustav Auer talks about his experiences over 14 years of work with Friends… and how if you are a chef who wants to make a difference, he wants to hear from you!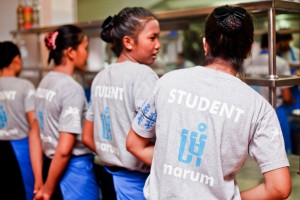 'Who would have thought that Chefs can make a difference?
Who would have thought that by working as a Chef Trainer at Friends-International you can change young people lives and build their futures?
But it's true!
Working as a Chef has not only changed the life of many young people in Cambodia and Laos but has changed my life as well.
After volunteering for 3 months with Friends I started working with them full time in 2000 to set up 'Friends' our first training restaurant in Phnom Penh which has over the years trained hundreds of young people that had been living on the streets with very little hope for their future. They all are now working in restaurants and hotels all over Cambodia and some have even opened their own restaurant.
14 years later I am running the TREE Alliance project www.tree-alliance.org  which right now has 5 training restaurants in Cambodia and Laos. Currently I am working on the newest edition in Luang Prabang which will open in July this year… and in the pipeline as well is another one in Bangkok which will be ready and set by the end of 2014.  There is no dull moment here for sure!
So if any of you Chefs out there are ever interested in what we are doing or if you want to join our team, you make sure you contact me.  We are always looking for people that like to make difference and of course you need to be very adventurous when it comes to food.
Who would have thought that Chefs can make a difference?
At Friends you can!!!'