Media Matters
Communication.
It's a vitally important part of what we do, whether ensuring that all our internal channels are functioning well, or that our online and social media presence is accurately reflecting the breadth and scope of our work and activities. We receive numerous requests from external agencies to cover our work in the media – sometimes they are from journalists, seeking to interview us on issue based stories, sometimes photo-journalists looking for an exciting new angle on a social issue, and sometimes film crews, covering a story for TV news or current affairs. We evaluate each request carefully as to the impact it will have, not only a positive one when published or disseminated, but also potentially  negative upon our day to day work, as there is of course the possibility of unintended disruption of those activities if there is a film crew following our teams.
Last week was a busy one for us, as we had two authorised visits in quick succession, both from European film crews. At the end of the week, a team reporting for Swiss TV on orphanages who visited Phnom Penh and Siem Reap, and in the days prior to that, a team from Norway here in Phnom Penh to shoot a brief documentary on our work…
The Norwegian crew were from the Norwegian Film School, making a documentary project about voluntourism and its association with the orphanage industry. Over four days, with our Cambodian Communications Officer Kanha providing the lynchpin for the movie, they interviewed key staff and documented our work, often taking a fly-on-the wall approach to the filming. They filmed and interviewed strictly and carefully within our child protection guidelines, which is sometimes a stumbling block with some from the media who would rather have completely unrestricted access to our work and to those who benefit from it.
Filming is often challenging. For our Norwegian crew, they had to contend with temperatures far in advance of those they had come from in northern Europe, exacerbated by the hefty film and sound equipment they had brought (sweaty work!) and the unpredictability of the environment – noise is an ever present problem for film crews in Phnom Penh, and it took some time for the crew to fully adjust to, and eventually accept, the aural soup of construction drills and hammers, roosters and traffic noise that form the constant audio backdrop at our office!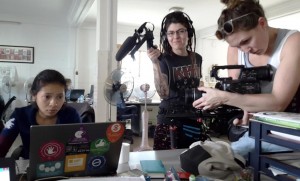 However, over several days shooting there and in the field the crew got used to the environment and the restrictions of documenting sensitive issues and areas and eventually left with several hours of footage 'in the can' ready to be edited down to around 25 minutes.
For Kanha and our communications team, this is all part of the job, facilitating a smooth process that ensures that the right people are being interviewed, the right activities are being documented and that all this is done with minimal disruption of our work or intrusion on those we work with.
Very challenging, but often very worth it, as it all adds to global awareness of the issues, and of our #everydayheroes work in addressing them!