A Korean Perspective
Tina Cho is a Korean social worker who is with us in Phnom Penh for a few months, volunteering to support the ChildSafe Movement. She very kindly agreed to share some of her thoughts about the work we do in relation to her experiences in Korea – thanks Tina!
"As a social worker from Korea, I would like to share some perspectives from my two months of experience at Friends.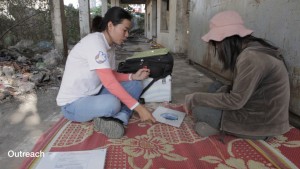 First, I was shocked when I saw drug users in Cambodia during my orientation period at Friends.  Although Korea maintains the status of drug purity country according to various UN reports, there are drug users in Korea too. However, in Korea, they do not represent themselves as drug users because the use of drug is penalized in Korea. In fact, during my five years of experience as a medical social worker in Korea, I had not seen a single patient who had an issue about drug use. In general, when Koreans hear about drug users, they immediately think about the illegality rather than the treatment and rehabilitation they would need. In contrast, drug users in Cambodia are less concerned about being seen as what they are and I found Friends' approach, giving new needles and syringes to the drug users for reducing the spread of HIV, very impressive. Also, Friends does not force detoxification or rehabilitation programs on the drug users.
Secondly, the aspects of child abuse in Korea and Cambodia are very different. While street children and fake orphans are major problems in Cambodia, as a manager of Child Protection Team at my hospital in Korea, I noticed child abuse by main caregivers, usually parents, is one of the biggest problems in Korea. I could learn the reality of Cambodian orphanages after I started my work at Friends, and I was moved at the ChildSafe campaign, which may not be a concept familiar to Koreans. Because Korea and Cambodia both have experience of being colonized and having civil wars, Koreans, in general, feel sympathy toward Cambodians who have gone through similar hardships such as separation of family and poverty. In addition, the experience of getting international aid is also a common denominator between the two countries. For that reason, Korean tourists in Cambodia tend to be more willing and eager to help Cambodians in need even though the approach they take is not always the right one. That is why ChildSafe movement can also be beneficial for Korean tourists so that they can direct their philanthropy to the right direction.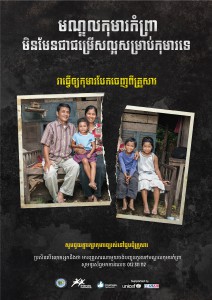 Now, I enjoy my work about researching on ChildSafe organizations and feel that Friends' activities are closely related to my specialty as well which is a big motivating factor for me. I am learning from diverse aspects of Friends and people here. Of course, as the only Korean at Friends, I am so excited about reading ChildSafe 7 tips for tourist in Korean language!"