THINK! Siem Reap. Now At King's Road Angkor… And In Review
Suzy from our Siem Reap, Cambodia, program Kaliyan Mith updates us on the success to date of the THINK! exhibition, the background to that exhibition, and the latest venue to host the exhibition. We also hear from previous hosts on their feelings about the impact of THINK!
Please read on…
"We  at Kaliyan Mith would like to express our sincere gratitude to the businesses that supported our work by providing us venues for the recent THINK!Exhibition, featuring artworks by world renowned artist Pascal Colrat.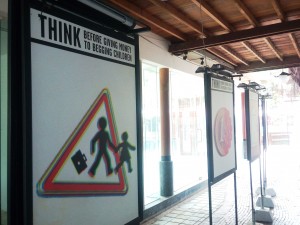 The success of THINK!, which has been displayed in venues around town, was due to the generous support of local businesses: Marum, Kaya Café, Kandal Village (Mamma Shop, The Hive, The Little Red Fox, SIRI VAN, Shop676, Frangipani Spa, trunkh.), Long's Bar and Beyond Unique Escapes.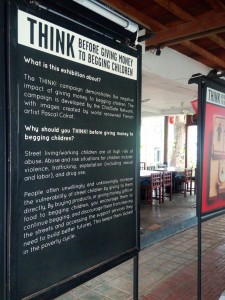 THINK! highlights the negative impact of giving to begging children. People often unwillingly and unknowingly increase the vulnerability of street children by giving directly to them. Giving money, food or gifts encourages children to continue begging, this prevents them from going to school and locks them into a cycle of poverty.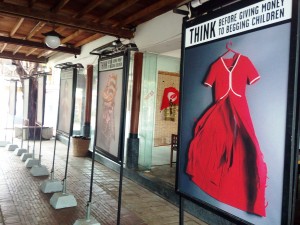 In Siem Reap, the issue of begging children is most prevalent in the popular tourist area around Pub Street. As such there is a vital need to inform tourists about children living and begging on the streets and scams, such as the milk scam, where tourists are being conned into believing they are helping vulnerable children by being asked to buy powdered milk for babies.
The ChildSafe Movement can only achieve its goal of protecting children and sharing these important issues by partnering with the community and local business owners – implementing the ChildSafe tagline of 'Together, protecting children'.
Through generous support for the THINK Exhibition we have been able to increase our impact and visibility, making it possible to reach more people to raise greater awareness about protecting children.
Due its success, we are happy to announce that the THINK Exhibition is re-launching now at King's Road, at the new "Made in Cambodia" market, where it will run until the 31st of January 2017.
See what businesses owners say about partnering with ChildSafe:
Long's Bar
"We had many people come to the bar who were not aware about the problems of giving money to children on the street. This exhibition brought people to the bar so that they could ask more questions and get more information to go away with"
Mamma Shop
"Many customers like the exhibition, ask me questions and take the other materials from the tables. I am happy to be able to discuss ChildSafe with my customers and share with them the campaign materials that are very powerful."
Beyond Unique Escapes
"As Beyond Unique Escapes is a responsible tourism business we have a responsibility to do whatever we can to help people in the local communities we work within. We support ChildSafe and Friends-International as they are protecting children and building futures of Cambodians and Cambodia.
 This exhibition shares a great message to local people and tourists who wouldn't normally talk about these issues, and talking about them is the first step to raise awareness and tackle these issues. "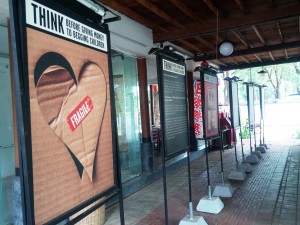 Thanks to all for their support!"