First Beauty Graduates From Siem Reap!
The Kaliyan Mith team in Siem Reap (KMSR) are delighted to announce the first two successful graduates from the Phka Kravan Beauty Training Social Business in Siem Reap!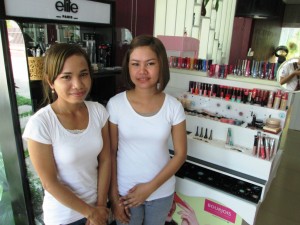 The two young women are aged 19 and 23, come from Preah Vihear and Siem Reap and studied beauty with KMSR for 8 and 12 months respectively.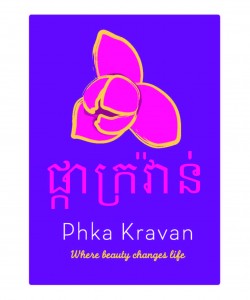 Anna, technical advisor to KMSR talked with them both recently. They both said that the skills that they learned at Phka Kravan were very well-suited to their new jobs at a salon in Siem Reap. They recalled the great memories they have of their time studying. In fact, one of the young women still lives in one of the Kaliyan Mith group homes (which support semi-independent living for young people) along with two other Phka Kravan students.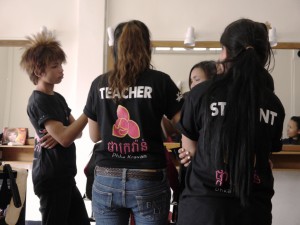 The young women said that they are very lucky that their new boss is very kind and helpful – she is also teaching them skills in sales (there is a cosmetics shop attached to the salon) which is great for their professional development. Friends very carefully selects the businesses where our young graduates are placed for employment, ensuring adequate support for them in the placement process.
When Anna asked if they had a message for other students studying at Phka Kravan (or the other vocational trainings Friends run), this is what they said –
"Its important to really commit and try hard, focus not just on the technical skill, but also the life skills, customer service skills"
"Have a good attitude toward your study, and with your customers. Listen to, respect and follow your teachers and you will achieve your goal"
The business owner is so happy with her new staff, that she will also be hiring the next two graduates from Phka Kravan. The Kaliyan Mith STEE Coordinator for Youth, Sokheng (pictured) is also very excited about this great partnership, and the success of her students (as you can see!)!