Election Fever In Phnom Penh!
A report from our Communications volunteers, Kesh and Thea on an event held in Club Friends which is part of the EU funded project supporting youth participation.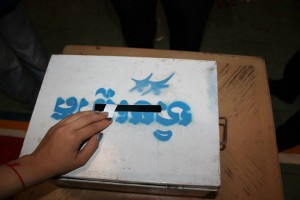 'While the national election campaign was just kicking off, the real political drama was centred at Club-Friends. The time to elect new student representatives had arrived. Excitement soon began to set in as space on the floor fast filled up and flip-flops were bashed together in a display of support for favourite candidates.
Ten students had been selected to run and they took to the stage to make their campaign speeches. Each was enthusiastically received, with applause erupting from individual sections. This reached a climax when the time for voting was announced.
The hall had been transformed into both a debate chamber and a polling station. Beneath the stage sat a committee of Mith Samlanh staff. Voting booths lined one side of the room, with screens and attendants to ensure a secret ballot. At the centre lay the ballot box, complete with industrial lock to prevent vote tampering. So dedicated were the organizers to transparency that a staff member leapt on stage to open the box like a magician, reassuring the audience that no votes had been hidden inside.
Once all the votes had been cast, vocational section by section, the counting began. Each paper was read out in turn by one of last term's representatives and promptly shredded to prevent a miscount. The tension initially mounted as a mixture of choices was announced but soon the clear frontrunners emerged. After the final tally, the winners took to the stage to accept their new roles as student representatives and voices for the student community.'