Cooking Up A Better Future
For as long as he can remember, *Huan loved making food. Whether it was making it with his mom or trying new dishes with his family, he enjoyed it. He relished all those times he enjoyed simple meals with his whole family in Cambodia, those were happy times indeed. Now he was left homeless in a foreign land with his oldest brother–mom, dad and another older brother sadly died shortly after they moved to Thailand in search of greener pastures.
The Thai police found him and his brother wandering the streets one day and they were taken to a nearby shelter. In July 2019, they were returned to Cambodia by the Thai authorities and came to Kaliyan Mith (Friends-International Cambodia program based in Siem Reap). *Huan and his brother met with the Kaliyan Mith staff for an interview and assessment. Huan told them that he would love to learn how to make delicious food and take that career path in cooking. His brother was interested in hairdressing. After the assessment, Huan was enrolled in hospitality vocational training at Marum (Friends International Training Restaurant) where he began his journey in learning about food and the different cooking methods he would use in his planned career. His brother was enrolled in barber school to learn his trade too.
While they were in each of their respective training schools, not only did they learn the specific skills they wanted to learn, but they were also provided with training on important life skills in leadership, emotional intelligence and other soft skills. They also learned how to work with other students in group activities and took classes in Khmer, Math and English.
Because they spent so much time in Thailand, it was difficult for them to understand the Khmer language at first, but they received additional language lessons to make up for it. Kaliyan Mith also provided psychosocial support and regularly followed up Huan and his brother to ensure they were amply supported. Huan and his brother were also able to obtain their Cambodian citizenship (including Cambodian ID) and credentials back with the help of Kaliyan Mith.
All was going well and good until March 2020– Friends vocational schools had to close down because of the COVID-19 pandemic. Huan and his brother had to stop going to school temporarily but their regular follow-ups continued with Kaliyan Mith and they were given some emergency assistance during this time.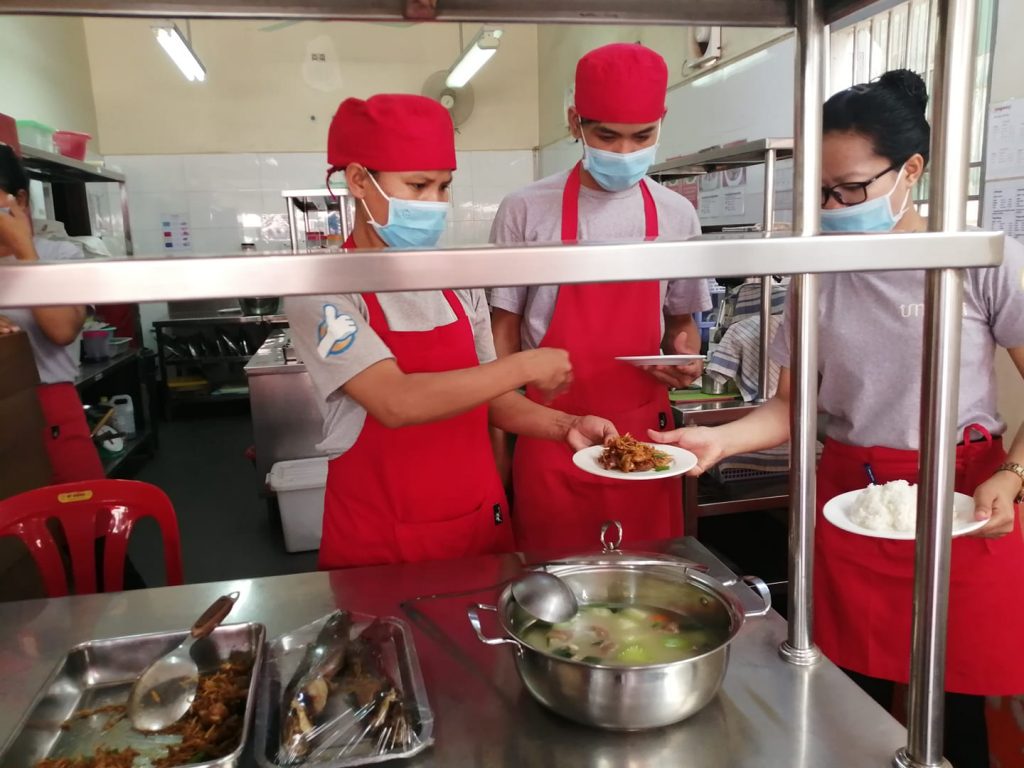 Finally, with special approval from the Siem Reap Municipality, Kaliyan Mith was able to reopen some vocational training businesses in July 2020. While Marum, the restaurant remained closed Huan, his brother and the other students were offered to enrol in alternative Friends vocational training programs, or vocational training programs through partner NGOs, and/or support for job placement.
Huan enrolled at Let's Eat (an alternative Friends International Cooking Training Program, adapted to suit a local clientele during the pandemic) in September 2020. Inspired by his experience at Marum, Huan wanted to be a cook so vocational training at Let's Eat meant he could continue to develop his cooking and hospitality skills. Huan progressed quickly through his training and graduated in January 2021.
All his efforts paid off when he received employment as a cook at a local Thai restaurant, with the help of Futures Siem Reap (a Friends International Job Placement program)in February 2021. Now he can use both Thai and Cambodian languages, as well as practice and advance his cooking skills more. He is excited by this, and hopes to have a restaurant of his own one day soon! After years of struggle, Huan is finally enjoying his life in Cambodia, doing what he loves, and he and his brother have been reunited with family and friends again.
*Fake names are used to protect confidentiality
You can support our vocational training or other projects by visiting –
friends-international.org/rebuildfutureswithfriends