Chenda Builds A Future Thanks To Friends
"Some days are so difficult. But when I just don't think I can survive, I wait by the side of the road. After 10 minutes, I see a Friends Social worker drive past, without fail. When I see that Friends t-shirt, I know I can make it through this day." 
Chenda*, Siem Reap.
*name changed to protect her identity.
The quote above comes from a young woman our Kaliyan Mith team in Siem Reap, Cambodia, are working with. Building Futures coordinator for the team, Maneth Tho, tells us more…
'South East Asia still faces widespread poverty – which results in child labour, low education and employment rates, and puts children at risk of malnutrition and exploitation.
 That cycle can seem impossible to break.  But we can break it – together.
As Building Futures Coordinator at Friends Siem Reap in Cambodia, I get to see, and play a part in, the absolutely inspiring stories of so many who break this cycle – actually, they smash it.
Chenda's story is truly amazing. She overcame a horrific attack at age 15. Partnered with a lifetime of poverty and thinking she had no support, Chenda gave up hope.
But Friends and our partners gave her safe shelter after that attack and provided medical support for the birth of her unplanned child. We arranged foster care for her baby so Chenda could attend hospitality training at our 
Marum
restaurant. She was later placed in a job, where she continues to work today.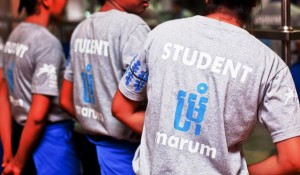 Chenda also received one-to-one life coaching, including intensive psycho-social counseling. She struggled with extreme anxiety and migraines, and was hospitalized a few times during her training. She still has hard days, but now she has the support she needs – and hope. Now, she is doing great and her family recently took back care of her 3 year-old son.'
This has been a good outcome for one young person, and we simply could not have achieved that without your support. Chenda's story has already been featured in our year-end fundraising appeal, however if you would like to help young women and men like Chenda, then please consider making a regular donation to support the work our #everydayheroes do on a daily basis with them. You can find out more by clicking here.
Thank you.