Barista Dreams Big
A call to the Futures Jakarta Hotline was the start of  the next step in Andi's coffee dreams. After some three years of planning, he and his brother finally opened their own coffee shop called Warung Kopi Brew Nusantara–a simple coffee joint in a small alley. When asked why he thought of a coffee business among other types of businesses he said, 
"I established my coffee store as an initiative and have been working with my brother for the past three years. The objectives are to help my family's finances and to preserve Nusantara coffee, such as Toraja coffee beans, Aceh Gayo, and West Java, in order to help coffee farmers become more developed."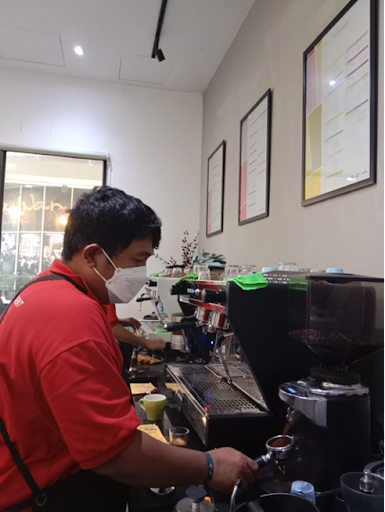 He saw that his coffee shop was steadily growing through the patronage of his neighbors and regular customers. He started dreaming of expanding his business but to do this, he would have to improve his skills. A friend had told him of Yayasan Teman Baik and its Futures Program. He then called the Futures Jakarta hotline. After completing an online form to apply for their Barista program, the team contacted him to schedule an interview.
During that interview, Andi shared his dream of owning a small cafe, and the motivation behind wanting to do this business and sharpening his skills in making coffee. After the interview process he was placed in a group class to not only develop his coffee-making skills more, but to also learn other soft skills such as financial management, business planning, basic computer skills training and others. 
Yayasan Teman Baik partnered with the company, Koffee Nation in running the coffee baristas' vocational training. Andi joined the 4-day vocational training with his classmates. Feeling confident enough after the training, Andi joined the barista competition in the Nusantara Coffee Exhibition in December 2022 and bagged 2nd place!
With his newly acquired knowledge in coffee making and entrepreneurship, Andi dreams to one day be able to put up more branches of his coffee shop in other areas of town. Now, he has more confidence in his entrepreneurial skills and in his coffee-making skills to be able to branch out. With his dream, he hopes to share his knowledge of coffee making to the people in his community who genuinely want to learn the science and art of making coffee (and of course to continue to support the coffee farmers in his country too!).