Changes In China – New Friends Group Leaders!
Recently we received an email from supporter Cherrie in Beijing, China. If you recall, she was the leader of  the young group of Friends and ChildSafe supporters from the High School Affiliated to Renmin University of China (RDFZ) – the FIrdfz group. Cherrie visited us earlier in the year to see our programs and learn about our approaches first hand.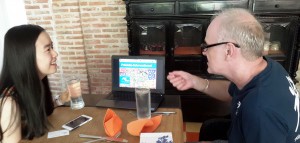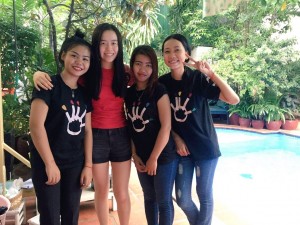 Cherrie is moving on from this position, as she said in her mail 'I'm an old (!)senior now, and according to school policies, I need to retire…'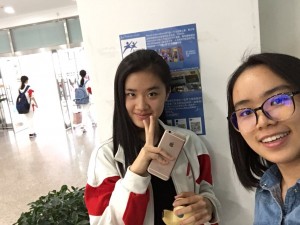 So, we would like to give a very warm welcome to the new leaders group of Cynthia , Heidu , and Lucy. Lucy told us a little about her reasons for joining the club –
'I started to know FI when I was in 9th grade… …with this club. What attracted me was the concept of this organization-poverty cannot be eliminated by raising money, but by gaining skills to live on their own. To be honest, it reversed what I used to believe. 
This summer, I went to a summer camp called global social leaders. There was an activity there called INSPIRE, which was a kind of speech that you can either tell how you were inspired and how you want to inspire others. I presented what FI had done and what our club had accomplished. My speech was really successful.
Besides, FI is a NGO that does the right thing but in a silent way. I guess that is why I admire it so much.
I hope that under my leading of the club, FI spirit will be spread further and further. '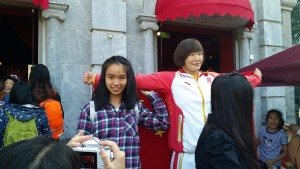 Cynthia then shared with us some of the future plans and challenges for the club –
'I found out how fantastic FI is and how I would like to take huge efforts… …to concern, consider how I would do and what I should do to help children, help them try their best to work and live on their own, not just by others contributions on money or other products.
It was a surprise… when I heard that I'm selected to be the new leader of FIrdfz. This year, me and my partners decided to do something more like making teaching videos of some special abilities students in RDFZ have so that children in Cambodia would learn more. Also, as we just finished the translation of three recipes (requested by Friends Social Biz team in Cambodia), we decided to hold a food festival about Delicious food in Cambodia since everyone likes eating, but I don't know whether we would hold that successfully because we have no accesses of some local raw materials and we don't know how to cook either! (maybe we can provided some easy to cook solid food or snacks?) And the last activity we wanna add is to sell some unused textbooks so we can make more revenues.'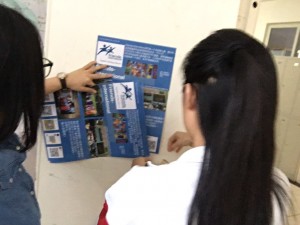 Cynthia also sent us some photographic updates on the team, including how they went about recruitment for the new group, which we have shared on this blog.
We're so pleased to have Cynthia, Heidu, Lucy and their team supporting us so enthusiastically from China (not forgetting Cherrie, who is still a big supporter in the background!), and we'll continue to share their activities in the months to come – thank you!