Life on a dumpsite
About 30 kilometers south of Vientiane lies a huge dumpsite: the city landfill. Impossible to miss when driving on Road 13: trash as far as the eyes can see, mountains of garbage piling up on over 13 hectares. An awful stench, dust and flies are part of the decor too.
Living and working there sounds unimaginable. Yet, between 200 and 300 people do. Men, women, adolescents, children. Every day, they look for plastic and scrap metal that they sell to the recycling facility located directly outside the landfill. With an estimated 400 tonnes of rubbish produced each day by Vientiane citizens, there is a lot to be sorted.
Despite the very difficult and risky living and working conditions, some families are earning up to 3 million kip a month, twice as much as the minimum wage in Laos. A fairly 'good' salary, making workers reluctant to switch profession.
"Now I am working in a factory. I'm sewing bags. But I earn less than when I was working at the landfill. And I don't have a flexible working schedule as I could have before" said Mali*, a mother we are supporting to send her children to school.
A Mobile School to bring education to those who can't access it
But living on the landfill often means no education for children. That's why our Peuan Mit team (Friends Laos) came up with the idea of a Mobile School to go into communities where there is no school. Every week, the team drives to the landfill to meet with the kids and their parents.
Mobile school activities include offering the children the opportunity to read story books, draw and color pictures, play sports such as badminton, get life skills education on hygiene, eat fruit, and receive basic medical care.
We also provide adults with counseling, life skills education and material support. Our Futures team comes along on these visits too to inform young people and their parents about vocational training options, to provide career counseling services and to help them find better and safer jobs.
Since January 2019, people living on the landfill also have access to the first WASH station with toilets, showers and clean water, built in partnership with UK -based Small Steps Project. A first step for sanitation and hygiene and a life-changer for young girls and women who now have a safe and clean space to deal with their periods.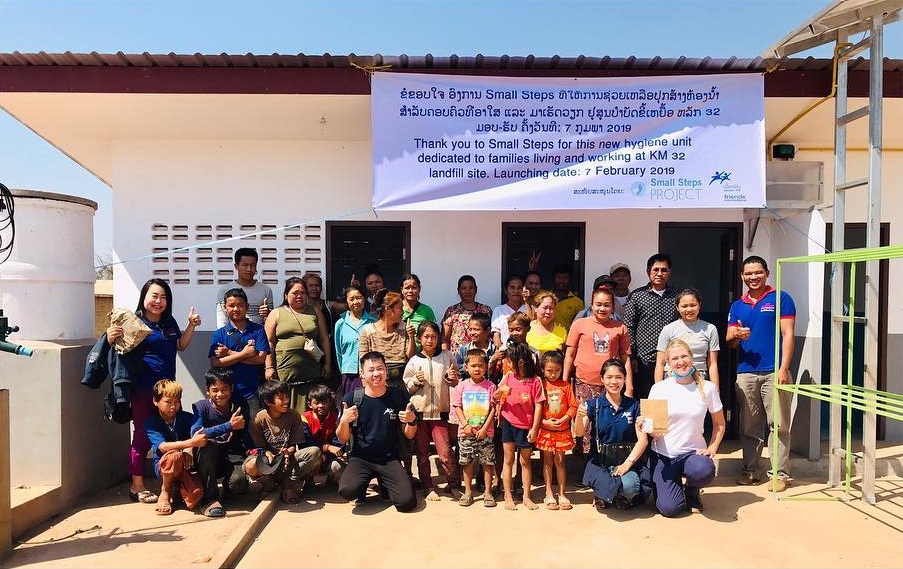 ---
Twenty five years on the dumpsite
Thavone* has been picking trash since she was five years old. She is about thirty now. Married and a mother of three children, she comes to the dumpsite every day to collect plastic before selling it. Luckily for her and her family, she doesn't live onsite, but in a small house 20km away. Life is still difficult.
It's very dusty and dirty here. And when it rains, it's really difficult. I would like to work somewhere else but I have no skills.
Each time we visit, we meet with Thavone and provide her with basic medicine, some clothes and most importantly counseling. When she's free, she joins in our activities and life skills sessions. We also support her with materials to enable her children to go to school.
My life is better now. Peuan Mit staff listen to me when I have problems, they provide a very good support.
In the future, Thavone would like to open a small business at home. She would be closer to her children. And further away from the dirt and dangers of the dumpsite.
*Names have been changed to protect identity.