Bangkok, BAML & Beads – Building Futures On The 33rd Floor!
This from Thailand Program Director Ann on sharing Friends program approaches with our corporate sector partners…
'Empowering communities – how rolling up paperbeads leads to better education for children in squatter communities!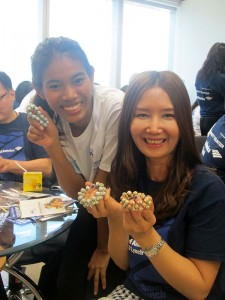 15th May, and on the giddy heights of the 33rd floor office of Bank of America Merrill Lynch (BAML) in Bangkok staff from the Friends Thailand Peuan Peuan team were joined by four caretakers from communities and forty community volunteer staff of BAML to share the Friends Thailand Family Income Generation Program as a 'tool' to empower adults in squatter communities in a  "Home-Based Production for Education" workshop.
Home-Based Training skill is just one of the options that Friends Thailand provides to parents or caretakers in these communities. The Peuan Peuan team supports adults to take on positive actions towards better care and education of their children.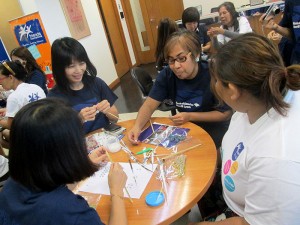 Pum, Mod, Yee and Aim, our caretakers from the communities we work with proudly demonstrated  and explained how home-based skill trainings helped improve the well being of their family, including helping them access education for their children. The products they create from upcycling materials such as old magazines generate income for them, which they use to support their families and make sure their children can go to school.
The Forty community volunteer staff, including The President of BAML Asia Pacific, Mr. Matthew Koder, then had the opportunity to experience hands-on rolling up beads created from magazine strips, and at the end everyone managed to create an impressive upcycled bracelet!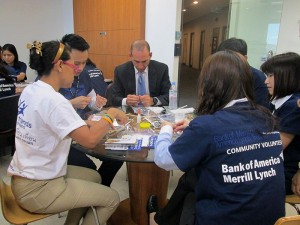 Many thanks to Bank of America Merrill Lynch who with Friends Thailand together continue to make it possible to empower communities, improve well-being of families and offer possible opportunities of education to their children.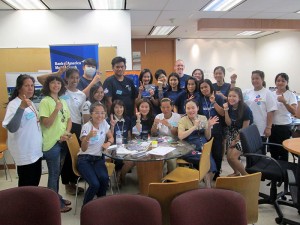 Together we continue…to build futures!'