Building Futures – A Laos Success Story
We recently talked with Bouavone Boualivong, who is the Luang Prabang Project Coordinator for the Friends-International Laos program Peuan Mit. She recalled the story of one of the many young people she had worked with over the years.  Aon came from among the quarter of Laos' population who still live in poverty. Poverty causes kids to drop-out of school, and results in child labor. This often leads young people into street-life, crime, drug abuse, exploitation and trafficking. They have very little opportunity to find safe employment. Aon was a victim of Laos' poverty – but he's a better example of how to beat it! Let's hear his story directly from Bouavone…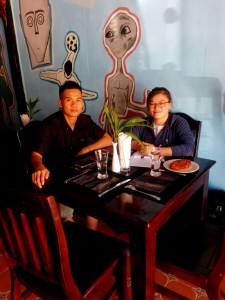 "Aon was our first-ever graduate from Laos' Makphet training restaurant in Vientiane when he was just 18 years old.  Now he's a successful entrepreneur! He was among the 35% of Laotian kids who reach secondary school, but he dropped out in the first year to help support his family.  He went fishing to feed his family and worked as a wood transporter. But he didn't earn much.
Back in 2008, I was Aon's Case Manager. Together we discussed his options. We offered him hope in the form of cooking and service training. We arranged for him to live with a relative and gave him a bicycle to get to the restaurant. Then we helped him get a job.
Our restaurants provide free hospitality training to give young people hands-on  skills by serving real customers. And restaurant revenue helps Friends support more youth like Aon.
Six years after his training, Aon opened his very own restaurant in Luang Prabang. It's called 'L'Isola dei Nuraghi', where he serves Italian pasta, sandwiches, pastries, and his best-seller – pizza!
"I wanted to have a family," Aon explained when I asked him why he decided to start a restaurant, "but I needed to earn my own money to support my wife and two daughters."
Now Aon is giving opportunities for employment to youth who graduate from training at the Khaiphaen restaurant in Luang Prabang – his story is an excellent example of how future building works!"
(This story features in our end-of-year fundraising campaign – if you would like to support other young people like Aon to build their future, you can donate here. Thank you!)