A Silver Lining – Playtime (and more) In Siem Reap!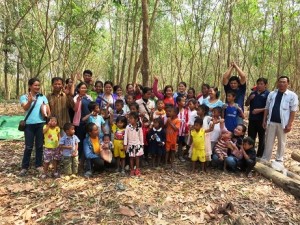 Siem Reap, Cambodia. Let's hear from Anna, the Technical Advisor to the Friends Kaliyan Mith program there about a fantastic recent activity enjoyed by many…
'Our long-term donor World Childhood Foundation has launched something called the "Silver Lining" grant initiative. It is designed to allow those children who benefit from work done under a Childhood grant to have an experience that not only encourages play and creativity, but one that will also be memorable to them.
So last week we arranged for our Home Based Production families to visit the Bantei Srey temples of the Angkor complex, Kbal Spean and the Angkor Centre for Conservation of Biodiversity (ACCB), which is the first nature conservation centre in Cambodia.
The idea behind the day was to take the families all together to these beautiful places that they have never been to before, to have fun and to create some lasting memories together! There was an educational element with a guided tour from the staff at ACCB, we played games, and the children also drew pictures of their day to take home with them. We took photos of each family at Bantei Srey, and we will print them out for them as a permanent reminder of their grand day out!'