A Tale of Two Restaurants – #socent in Lao PDR
Beginnings
Coming to life in Phnom Penh, Cambodia in 1994, Friends-International (FI) rapidly established innovative approaches to work with street children, youth and marginalized populations in the capital city. This was to help them to move away from the risks and issues they were facing and lead productive lives as active citizens of their country. FI's creation of a social enterprise (#socent) model of sustainable development led to the launch of the first of its social businesses, Friends the Restaurant, in the city in 2000. Here, young people received training as chefs and service staff in a working restaurant environment, going on to jobs in the industry following their graduation. Profits from the income generated by the many (primarily tourist) visitors the restaurant attracted were reinvested in the social work and projects of FI.
New Opportunities
Following the growing success of FI in Cambodia, approaches were made by local authorities in other countries facing issues with marginalized populations. In 2004 an FI program for street children, known locally as Peuan Mit, came into being in Vientiane, Lao PDR. This was a collaboration with the national Ministry of Labor and Social Welfare.
Modeled on the successful projects and programs that FI had pioneered in Cambodia, the Laos program quickly moved toward developing the social enterprise elements that made FI so innovative and unique. A vocational training restaurant was opened in Vientiane in 2007, named Makphet, after the local word for chili. Makphet gave local youth the opportunity to learn a range of skills in the hospitality industry in a 'hands on' active business setting, cooking and serving for a public clientele, again mostly tourist, as they trained. Social support for the students and their families during their training period was provided by the #everydayheroes of the Peuan Mit team, whilst their Futures project placed students into decent local employment on their graduation.
Expansions
The success of Makphet led to the opening of yet another training restaurant, this time in the beautiful surroundings of Luang Prabang in the north of the country.
Khaiphaen arrived in 2014, and was named after a type of edible river weed, a local delicacy. The restaurant model was exactly the same as Makphet – vocational training within a functioning business environment, alongside wide-reaching social support for the student trainees and their families.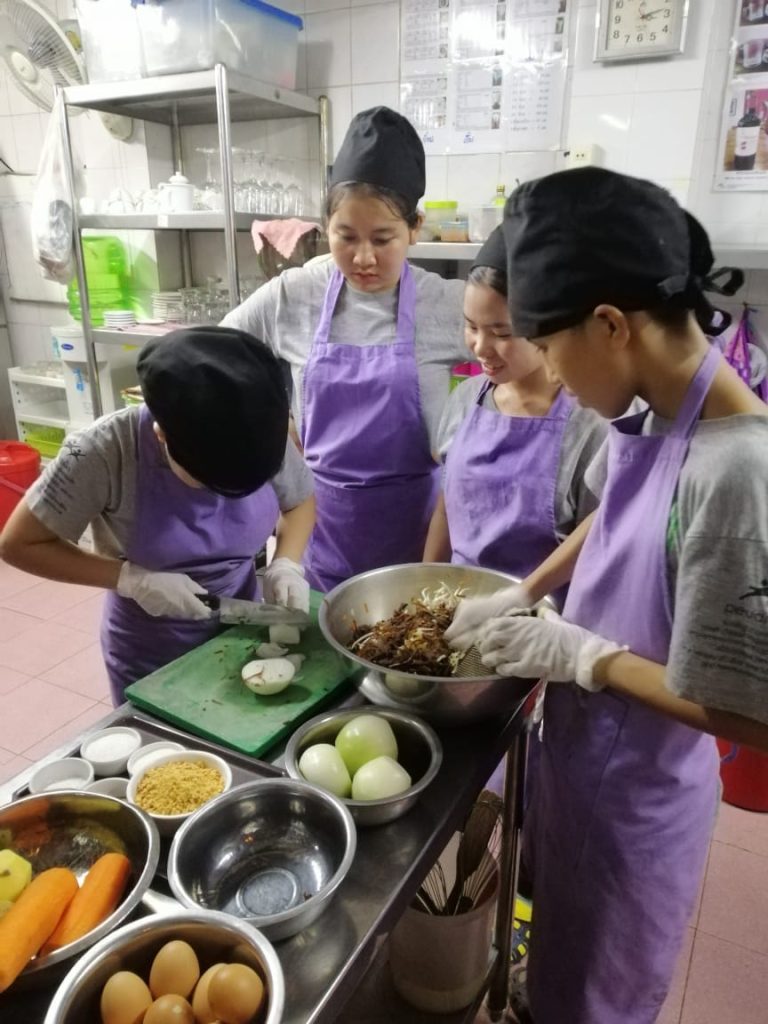 Challenges
However, the global COVID-19 pandemic had a severe impact upon both these social businesses, forcing their temporary closure during local restrictions and the cessation of international tourism. Some of the team members had to be laid off, and unfortunately Peuan Mit were not able to continue any direct training to their students. Online training, which had been used with some success in other COVID-affected FI programs was not an option, as many of the students had no internet access at all given their location.
Going Forwards
The restaurants were eventually able to open again under the training model in mid-2022, however were still struggling with not having enough tourist visitors (the principal clientele for these types of restaurant). In Vientiane, Makphet scaled back operations, rebranding as 'Mini-Makphet'. Things have been gradually getting better and there is an expectation that tourism will have improved to near pre-COVID levels by the early part of 2024. With this in mind, plans are now in place to move Khaiphaen to a new and better location in Luang Prabang later this year.
The spirit of resilience which ensures the #buildingfutures work of the training restaurants continues in the face of many challenges is reflected in this quote from FI Vocational Training Coordinator Gustav Auer – 'We never give up – things change, we just need to adapt!'
(Want to support FI's programs and projects? Then please click here)