Happy Birthday M'Lop Tapang!
Saturday 1st June 2013 was a very exciting and important day in Cambodia. Not only did International Children's Day fall on that date, but it was also the day that our long-standing partner organization, M'Lop Tapang, celebrated its tenth anniversary!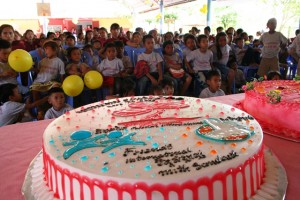 Named after the sheltering Tapang (umbrella) tree, the organization was started by a small group of foreigners and locals to address the issues faced by the street and beach children of Sihanoukville, on the southern Cambodia coast. Since then it has grown, currently providing much needed services to 1,2oo families and 3,500 children through its ten specialized centers across the area. As a member of the Friends CYTI Alliance, it also manages the local ChildSafe program, and through membership of Friends TREE Alliance it has recently opened its own successful vocational training restaurant, Sandan, in Sihanoukville.
A small team from Friends-International were on hand to join in with the anniversary celebrations, and brought with them a present for our M'Lop Tapang friends – a birthday cake!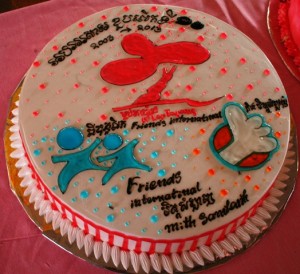 Our congratulations and best wishes to M'Lop Tapang for 10 years of excellent work, work that will continue to build futures for the marginalized children of Sihanoukville for many more years to come!