Win4Youth Team At Friends, Part Two, 'Breaking The Cycle', Emer & Ryushiro.
Adecco Win4Youth offices across the globe are fundraising for chosen organizations through their Win4Youth cycle challenge. Four of the challenge team members won the chance to spend a week seeing the work of one of the  organizations the challenge supports, Friends-International. This is part two of a  personal view of the time spent at FI by challenge team members, this second part from Emer(New Zealand – via Ireland!) and Ryushiro(Japan).
"Breaking the Cycle
To learn that there are next to no orphans in Cambodia has really opened my eyes and made me stop and think about how much money is donated by people without realizing where it's going and what it is doing to a society.  Such a good intention with a negative impact, it has me thinking how do you break the cycle and explain to someone that a good will gesture is so hurtful. The "Children are not tourist attractions" powerful image is one that will stay with me for all the right reasons.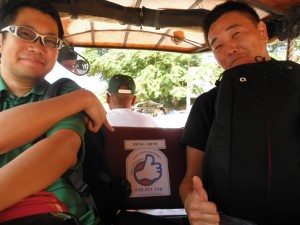 Taking a walk around Phnom Penh was a whole new experience for my Japanese colleague, he had never seen anyone so young begging for money and found it hard to walk away from this situation. It's a situation that many tourists find themselves in all the time. To see how Friends International can encourage a young person like this to look at their current life and see that they have options amazed him. Ryushiro was given the wonderful opportunity to visit one of the Mechanical Workshops, here he met with many young boys who in Japan would be going to school and here they were telling him he wasn't fixing a tire correctly.  Boys become men very quickly here in Cambodia.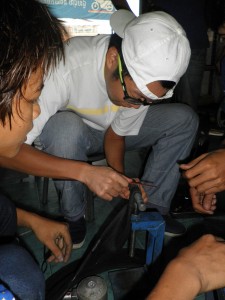 I think we both will be leaving here with a new perspective on life and many questions that we will continue to look for answers on. There is so much that we as individuals can do to make people aware of the 7 tips of Child Safety, this knowledge sharing alone can have such a positive impact. We were proud to be Ambassadors for Adecco this week and we promise to continue to share our learning's from this week."
Emer and Ryushiro