This post comes from our Kaliyan Mith team in Siem Reap, who have been participating in workshops run by Laura Forbes, a musician, actress and facilitator from the UK. Laura spent some time working with the Mith Samlanh team in Phnom Penh earlier in the month, before heading up north to Siem Reap for a day of learning and lots of laughs with the team there…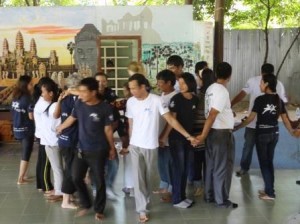 'We had two Saturday sessions from Laura, the morning one focused on activities we could do with early years children and in the afternoon a session on working with older children. Basically, we were learning how to use theater, games and music to engage with children and young people, so over the day our activities included –
–       hello songs,
–       rounds introducing each other by our names
–       movement games, singing and moving
–       rhythm patterns
–       tapping different percussion with different rhythms to the pulse (and music)
–       moving to music
–       expressive movement with scarves
–       recognition of musical themes to support stories
–       use of props to support movement
–       individual and group improvisation
–       rounds and games of agility, coordination and fast reaction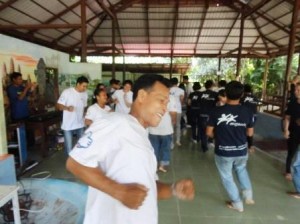 We also used drums, and percussion made from recycled materials such as plastic bottles and containers. As you can imagine everyone had a lot of fun. We learned many games and activities that were very funny, as you can see in the photos taken! We learned to use simple instruments.
It was really enjoyable and will be very useful in working with the children and youth and as team-building activities!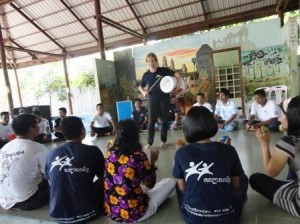 Thanks to Laura for such a nice day and the percussion she donated to us!
Thanks to the staff who organized lunch!'