Off Street Living onto a Better Life
Just two years ago *Sreyoun and her family were living on the Phnom Penh streets by a pagoda. They were homeless and her parents earned barely enough from scavenging to feed their family of six. Everyday, while Sreyoun and her sister would go around with their mother and father on scavenging trips, they would see children in uniforms walk by. She had not gone to school and secretly hoped she and her siblings could go and learn one day.
Then one day, Sreyoun saw someone from Mith Samlanh visit the pagoda. She heard from someone that that person could help her and her siblings go to school. She ran to her dad and told him to talk to the person from Mith Samlanh. The Mith Samlanh staff was able to talk with her father and learn about their family's situation.
What great joy it was when her father took her and her sister to Mith Samlanh Education Center to start learning! There Sreyoun started learning with her teacher. She was able to make friends with her classmates and they all ate lunch together. After just one year of this support, Sreyoun and her sister were reintegrated to a nearby public primary school.. She attended 1st Grade. Mith Samlanh continued to support their education and provided them with everything they needed for school. #EverydayHeroes (Mith Samlanh staff and ChildSafe Agents) continued to educate Sreyoun's family about emotional support, hygiene, nutrition, health, and safety to support her and her sister as they continued their education.
Sreyoun's education, as well as her sister's were regularly monitored by Mith Samlanh staff and the school and when the school had to close because of the COVID-19 pandemic, Mith Samlanh staff would give her and her sister worksheets so that they could continue learning. By the end of 2021, Sreyoun was able to upgrade to 2nd Grade.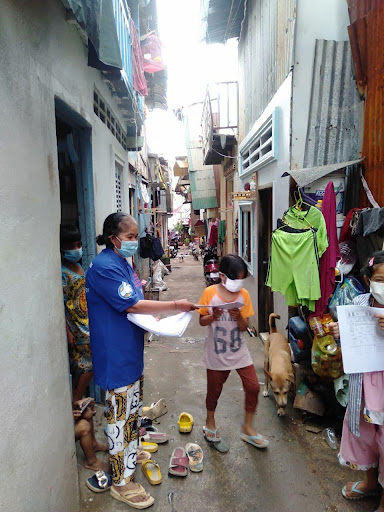 Sreyoun's family was also gravely affected by the impacts of COVID-19. To ensure that their children could keep going to school, Mith Samlanh gave emergency support to Sreyoun's family, as well as assistance to help start-up a small business and set them up in their new home. To date, Sreyoun's family is off the streets and are in much better living conditions.
*Name changed for privacy