Meeting Needs, and Moving On from COVID
Reaching Out
Delivering emergency food support during COVID lockdowns has enabled our #everydayheroes access to many people who have a range of needs that often go beyond simply food security. Through outreach or at food pick up points, social workers have had time to meet and talk with people. They can conduct assessments, identifying what support people actually need, both in terms of #savinglives and #buildingfutures, in order to move forward with their lives, and how best to deliver that support.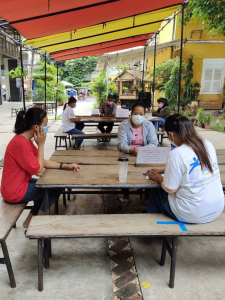 Here are two quite different stories from Phnom Penh, Cambodia. One, talking to a young woman whose family life was badly affected by the pandemic. The other, a young family forced from their home, who we are supporting away from a potentially hazardous lifestyle on the streets of the city.
Learning New Skills
Theary* is 16 years old. She is a bright young woman, the oldest of three sisters in her family, however one whose life was severely disrupted by the impact of COVID. She told us how she came to be part of our training program.
"My mum was widowed, then she met my step dad. He's a security guard, and my mum sells fruit, but both of them have lost so much money because of COVID. We don't really have enough to cover our rent and other things we need, so I stopped my Grade 7 studies (which were hard for me to follow online anyway) to look for a job. That's been so hard, as I have no experience, so I've been coming to pick up food support for my family from Mith Samlanh.
I met the social workers, who gave me great advice on how I could easily train online for a job in the beauty sector, and how they could continue to support my family while I did this. I'm very excited by this, and I started training with Mith Samlanh in July this year. I'll be so happy to graduate, find a job, and help my family through this time!"
Into the streets, away from the streets
The teams have also been bringing food support directly into communities, and have taken the opportunity to learn more about the lives of those being supported through this. This April, in Central Phnom Penh they met with Thy*, 21 years old, mother of two young girls and a boy. Thy was coming to pick up food support twice a day. Along with her husband, her income comes from scavenging and begging, activities which have also been adversely affected by COVID.
The team sat down with Thy to learn more about her situation. She told them how the COVID outbreak meant they did not have enough money to pay rent for their house, so they had moved out and on to the streets. Our team created an action plan, firstly #savinglives through getting the family off the streets and into a rental house in August. Our support comes through helping with the rent, food and any medical costs for the family. The #buildingfutures element includes working with the family to create their own small business, to ensure they remain away from street life, and to register the children for school when the schools reopen.

The global pandemic has brought many additional challenges into the lives of those who lack opportunity – the #everydayheroes of our Friends teams will always find ways of addressing those challenges, through resilience, and innovation!
(to support our work, please visit friends-international.org/rebuildfutureswithfriends)
*names changed to respect privacy of individuals