Joy, first trainee at Let's Eat Vientiane
Joy* a cheerful 17 year-old girl, started her vocational training at Let's Eat, our newest restaurant in Vientiane, Laos in August. She was actually the first student to join the training!
From Champasak province in southern Laos, Joy's childhood was very happy and comfortable with her parents and two siblings. She loved going to school and excelled in her studies, always being the top student of her class. However, life changed drastically for the family when circumstances led to her parents divorcing and her mum being forced to sell everything the family owned to cover their debts.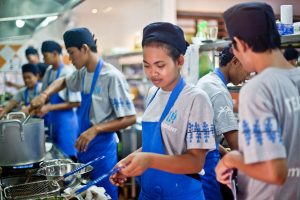 The village chief knew about Friends work and talked to Joy about our cooking vocational training. She was really enthusiastic about it and decided to join the training.
"I'm extremely grateful that [Friends] accepted me in their program.  Even though my family is very poor now, life is not over for me. I have hope and will keep trying my best!"
Since joining this year, she has already learned the basic of cooking and hygiene. She's very passionate and works hard to do her best."I enjoy my time a lot at Let's Eat! I have made some really good friends, it feels like a big family!"
Over the next few months, Joy will be trained on customer service and business management so she could launch her own business after she graduates.
When we ask her what her dream for the future is, she answers:
"My dream is to open my own restaurant one day. It doesn't have to be big, a small restaurant would be perfect.
And I will also be serving the best hibiscus juice with the recipe I learned here (my favorite drink!)"
* Name changed to protect identity. Image used does not include the subject of this piece