In the past few weeks our HQ in Phnom Penh has hosted several visits from Japanese University study groups and rights-based organizations, fostering not only greater understanding of our work but alongside that the real potential for further collaboration and awareness-raising. Another such visit took place yesterday – this one was the Japanese Youth Goodwill Mission, visiting Cambodia under Japan's INDEX program, with 18 youth who had traveled from all across Japan alongside a Cambodian Ministry of Education representative coming to learn about our work, primarily that undertaken in Cambodia.
A dynamic question and answer session followed the presentation, with the young people (average age 21) asking many pertinent questions relating to our approaches. They were particularly interested in the ChildSafe materials,as they had already encountered some of the issues we highlight in our '7 Tips for Travelers' during their visit.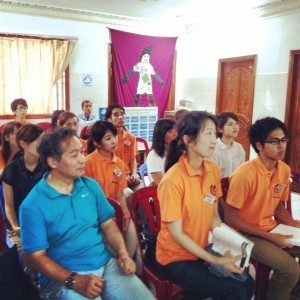 They were very engaged and enthused by our presentation,and by the work of Friends, so much so that we now have four potential volunteers/interns lined up from the group, and a promise that they will all spread awareness of our work when back in Japan, in particular our ChildSafe approaches – a great result!