This Giving Season, Build Futures With Friends!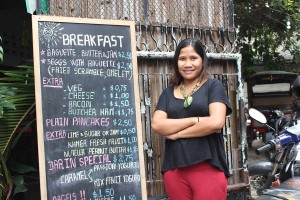 This year, for our end-of-year annual campaign, we are focusing on inspiring stories of the impact our #everydayheroes make in their work. Our first story comes from hospitality teacher Nina, who is based at the Mith Samlanh Center in Phnom Penh, Cambodia.
"We see so much sad news every day, so I want to share a story that makes me smile.
I bumped into my former student, Darin. At 28, she just gave birth to her second child and is now the successful owner of a popular guesthouse and restaurant in Phnom Penh called Mini Banana.
When I first met her, Darin was 15 and had been cleaning streets around Wat Phnom (a local public landmark) with her mother, having left school at Level 6. Like many young Cambodians from poor families, her opportunities were very limited.
The barriers to good jobs girls like Darin face are huge. Poverty threatens their health and security, blocks access to education and training, and bars them from opportunities to build their futures.
I teach marginalized youth to cook at Friends' Vocational Training Center, where I had the pleasure of teaching Darin for over 2 years. She is a fast learner and picked up English quickly. This helped her to work in the tourism industry, where salaries are much higher.
As we remembered old times, Darin said to me: "Mak Nina, you always had a smiley face in class, but you were also a bit strict!  That helped me adapt well when I got my first job – I learned a lot from you!"
After completing the hospitality training Darin made three attempts to start businesses before one finally took off. Undaunted, she kept trying.
"I have a message for the younger generation:" Darin said, "Don't ever give up your dream! I used to be a poor girl, but I kept telling myself that dreams don't cost money."
It only took a little support from Friends to help Darin realize that dream.  Now she manages 12 staff, including 2 French chefs who cook fantastic dishes. She is a determined young woman providing for her young family – and now she takes care of her mother too.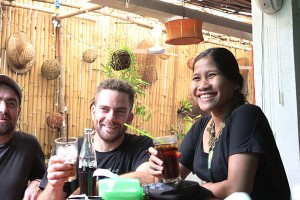 I'm so proud to have played my part in Darin's success.
I'm writing to you today to show you what a successful Cambodian business-woman looks like, and I hope you will keep in mind, as #GivingTuesday approaches on November 29th, that a little support can go a long way for a young girl with a dream.
I hope Darin's success brightens your day just a little. Seeing her again definitely made me smile…
Thank you for reading,
SOK Nina
Cooking Teacher
Friends Phnom Penh Training Center"
(How can you support young people to build their future?
Learn more about exactly what your donation can do at this link.
Help #everydayheroes like Nina to build futures for more young people like Darin this giving season!)