Flood Update – Cambodia/Thai Border
A first hand report from Vuthaya Charoenpal (Ann), Peuan Peuan (Friends Thailand) Country Program Director, on the flood situation in Poipet and Aranyaprathet, which straddle the border between Cambodia and Thailand…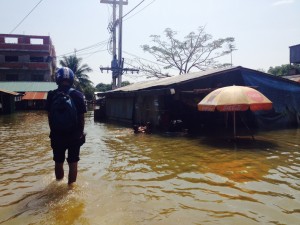 'On Tuesday 8th, my trip from Bangkok to Aranyaprathet lasted almost 6 hours, longer than the usual 4 hours bus ride, due to heavily flood affected areas nearby Aran. The driver had to take another route to reach the same destination, Aranyaprathet, border town to Poipet.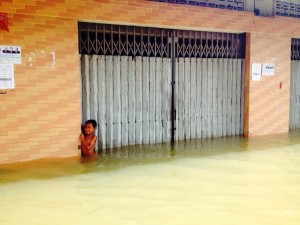 There had been a couple of situation reports of flooding in some areas of Poipet. On Wednesday 9th, Vorleak, the Peuan Peuan Aran social worker took me on a field visit.  This is the second flood that I have experienced, the first being in Bangkok. Though it's a different setting, there are many similarities in hardship from this natural disaster.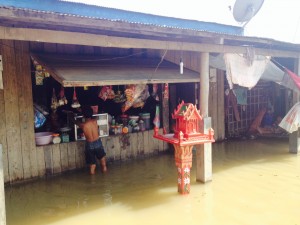 Over 50 families with more than 100 children have had to leave their homes to stay in a temporary 'evacuation space'.  There are serious concerns about availability of portable water, sanitation, personal hygiene and medical treatment for sick people, especially children.  Obviously, children are now out of school too as most schools have now closed due to the flood.
Apart from basic living needs for all, child protection is critical – we want to ensure that children are prevented from any violence or danger, or being abused, neglected and exploited due to this situation.  Peuan Peuan Aran is now getting all evacuees registered and preparing to provide support based on their need.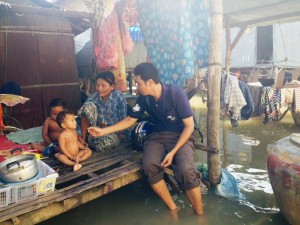 We are also coordinating community based agencies to respond and support those families, especially children, affected by flood.
Here, together we must learn and prepare for other natural disasters that may hit in the future to ensure that all our existing community based agencies are ready to act, support and especially protect our little ones.'
To donate to the Friends response to flood relief across Cambodia, please click here and select 'emergency support' from the drop down box.
Thank you