Child Protection Takes Center Stage In Thailand
Vuthaya Charoenpal (Ann), Country Program Director for the Friends Thailand program Peuan Peuan updates us on the exciting developments in Child Protection happening across the country in Government-run Welfare Shelters.
'Wednesday 16th September 2015, was another great day to remember, a great job done by Peuan Peuan team! We were all thrilled when Mrs. Rarinthip Sirorat, the Director General of the Department of Children and Youth under the Ministry of Social Development and Human Security (MoSDHS), proudly announce at a celebration event in Bangkok "I, on behalf of the Ministry, officially endorse the Child Protection Policy for Welfare Center and thank officials of welfare centers for the commitment to, and intention of, working towards a Child Protection Policy. The Child Protection Policy is a great tool to support our operations and ensure better protection under care in each government center. Both operational staff and management have clear guidelines how to deal with any incidents related to violence in the center, and at the end this shows and proves to the public that our standards are aligned with the Child Protection Act 2003, and The Convention on the Rights of the Child."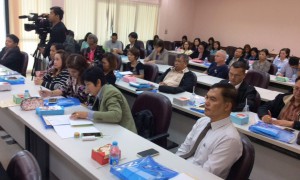 She also thanked UNICEF (Thailand) for their support and acknowledged the long term partnership with Friends-International (Thailand).
This another major step in a number of achievements facilitated by the Peuan Peuan team, working together with the Royal Thai Government and the MoSDHS, to ensure the welfare of children under the care of government centers since 2006.

The project the Director General referenced, "Child Safeguarding in Welfare Centers" followed on from a recent situational analysis by UNICEF that highlighted a pressing need to build the capacity of center staff to be able to better protect the children and youth under their care. Peuan Peuan was chosen as partner organization due to its extensive experience, both in the field of child protection and of working within Government-run centers, where it provides a range of services to those within them.
In January of this year, the first project phase was initiated in 8 centers; to build and implement child protection systems. There were 448 staff trained and 24 child protection officers appointed. The next phase, running into 2016, will see a further 16 centers identified and trained, with remaining centers to be trained in the subsequent phases.
Peuan Peuan team would like to thank everyone from the Ministry and UNICEF for their great support and good collaboration that made all this possible.
Also, a BIG THANKS from us goes to James Farley, former Peuan Peuan Technical Advisor, who was behind the drive to strengthen the Child Protection Policy and its practice to the team and has always been a source of great support for us.
Thanks to all for this great example of #TogetherBuildingFutures, #TogetherProtectingChildren!'