A Future with Futures Siem Reap
Sonny and his wife Nary have four children. All the children attend local public schools. They also live with Sonny's parents in Siem Reap, Cambodia. With so many people to support, and with Sonny's little income, Nary thought of finding other ways to help with the family's expenses.
In 2019 Sonny's wife Nary accessed the Futures Office to see how she could help generate income for their family. Nary became aware of Futures Office services through a Kaliyan Mith social worker doing community outreach. 
Following career counselling by the Futures team, Nary enrolled in hospitality vocational training at Let's Eat training restaurant. All Kaliyan Mith vocational training also includes a suite of job readiness modules, general education (Khmer, math and English classes), life skills workshops and psychosocial support.  Nary graduated from Let's Eat vocational training in late 2019. Following a small business assessment, at the start of 2020 the Futures team supported Nary to set up a small shop at the front of their house in Kork Chork Commune selling soft drinks and small snacks. 
From March 2020, Siem Reap has been impacted by COVID-19 which has forced temporary and permanent closure of many businesses and subsequent widespread unemployment. Shortly after, Sonny lost his job and Nary's small business sales (already limited) reduced, leaving the family with almost no income. The children were also at home full time with the nationwide closure of schools.
The Futures case manager continued to follow up with Nary and provide support to her and her family. Following a needs assessment, Kaliyan Mith provided emergency support packs (food, hygiene materials, medical supplies) to Nary and her family four times throughout 2020. The two youngest children were also supported with remote education, and supported to return to school in September 2020, (despite schools closing again shortly after). 
In December 2020 Sonny accessed Futures Office services for help with job placement. Following career counselling, Sonny was provided with job readiness training, focusing on CV writing and interview preparation.
In February 2021, Sonny was supported into employment with a job placement as a security guard at a restaurant in Siem Reap City (10 min motorbike drive from his house in Kork Chork). The children were also supported back to school with the start of the new academic year 11th January.
However, the impact of COVID-19 worsened across Cambodia with a new community transmission referred to as the 'February 20th incident'. It also includes the closure of schools nationwide from March 22nd. At the end of March, Sonny's salary was reduced by 50% as the restaurant faced another closure.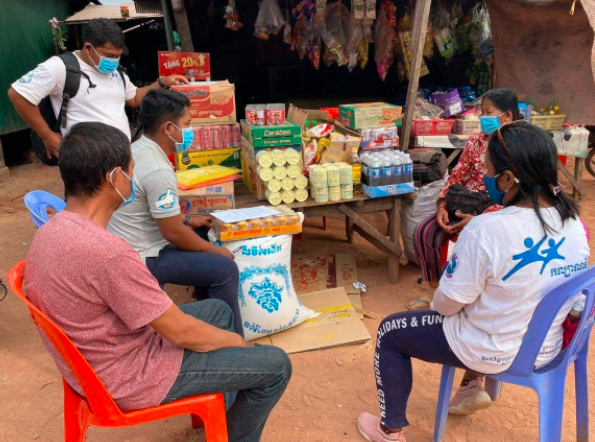 Futures Siem Reap and Kaliyan Mith Siem Reap are still supporting Sonny and Nary's family, they are seeing that when the situation improves they will get their lives fully back on track.