Youli's Dream: Education For Her Children
Youli* is 33 years old. She lives with her husband and her 4 children in a Hmong community near Vientiane, Laos. We first met her in 2013 and have supported her family since then. Today, she's telling us her story.
"I am Youli. I live with my husband and my four kids near Vientiane.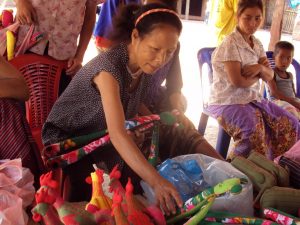 My husband is a construction worker but as that work is very unstable, we have a very irregular income. Because of that, we didn't have enough money to send our children to school. I stayed at home to take care of them, while my husband went out to work.
One day, some friends told me they were making toys for Friends-International, as part of their home-based production program. I really wanted to join the program too! I enjoy sewing during my spare time and this could help me earn some money while doing something I like.
When Peuan Mit team (Lao name for Friends-International) visited my village a few weeks later, I spoke with a social worker who speaks Hmong, my language, and told them I would like to join the program.
They assessed my family's situation and decided to support us.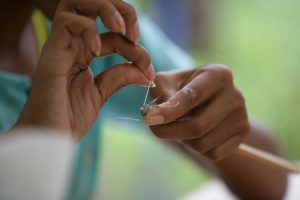 I was overjoyed to hear I could join the home-based production project! I could work from home, earn a bit of money and still be able to take care of my children. On top of that, Peuan Mit offered to support my three children to go to school. They helped with the enrollment process and provided uniforms and school materials.
"I was overjoyed to hear I could join the home-based production project!"
After a few years of making products for Friends-International, I managed to save some money, enough to start my own small business, selling noodle soup!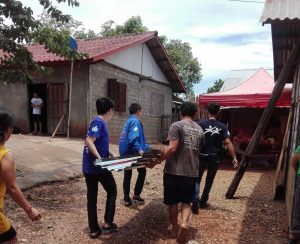 In May 2018, Peuan Mit visited me and my family and were impressed with the business I had set up. As the rainy season was approaching, they supported me with the installation of a roof to protect the shop from the rain, an ice cooler box for drinks as well as some marketing banners to attract more clients and help my business be more visible and attractive.
Most importantly, they have given me great advice in terms of hygiene and also a training on business and money management. I now feel much more empowered and I know how to manage our money better than before.
Today, I am making $5 to 10$ of profit per day, which is more than what my husband is earning!
We can now afford to send one of our children to school. The two others are still supported by Peuan Mit but I hope we can be fully self-sustaining very soon.
My dream: that my children become the best students of their class!"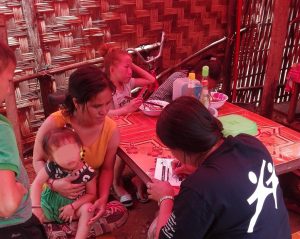 * Name has been changed to protect identity – photos are for illustrative purposes only and do not depict the individual subject