Short Term Foster Care Training in Siem Reap
This month saw the start of monthly training sessions for the Kaliyan Mith (KM) team of 10 short-term foster carers. The short-term foster care project places babies and children aged under 3 with foster carers whilst family tracing and family reintegration or adoption is carried out by the KM Family Reintegration Team.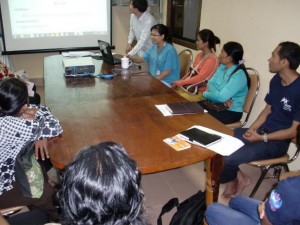 The monthly training sessions are run jointly by staff from KM and staff from Angkor Hospital for Children (AHC) – with the hospital staff covering medical and health topics related to the care of babies and young children (e.g. nutrition, caring for children with HIV, etc) and KM covering the social and emotional aspects of being a professional foster carer.
The first session was attended by 8 foster carers. The costs of running the trainings is shared between KM and the hospital.
The first training was a great success-  with all carers enjoying the chance to get together and asking the doctor from AHC many questions related to this month's topic, which was nutrition and the feeding of babies.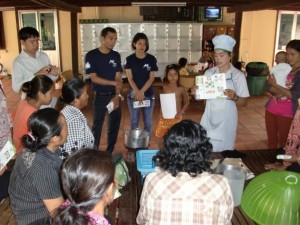 As well as the formal training topics each monthly session will also provide an opportunity for the KM short-term foster carers to benefit from peer support discussions about the practical and emotional aspects of caring for babies.
Looking after abandoned and sick babies is a hugely demanding task –  both physically and emotionally –  and KM Siem Reap are immensely proud of the great job that their team of foster carers are doing.