'Shifting Impressions… Work And The City'
Another glimpse into life in Phnom Penh and the work of Friends-International from our Communications volunteers, Kesh and Thea, reflecting on their first few weeks here and offering sage advice on keeping your wits about you…!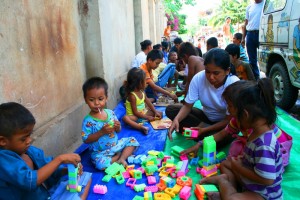 'Just as we had been unprepared for the unfamiliar pulse of Phnom Penh, we went into orientation without any clear expectations. Not being the most reflective of people, we are ashamed to say that we hadn't really considered how Friends projects operated on a daily basis.
Orientation both forced us to think more about the way Friends works and introduced us to new parts of the city. Through reading case studies at F-I Headquarters and seeing vocational training at Mith Samlanh, we had gained a strong appreciation for how Friends could completely transform some people's lives. But by visiting outreach programmes, we soon realized the importance of the everyday help they gave to the wider community. Though giving clean needles isn't going to stop people using, it controls the risk of disease. Providing children with toys and books won't necessarily equip them for the working world but this interaction seemed the key to their confidence and happiness.  These glimpses of village life gave us a more complete view of Phnom Penh, outside of the touristy areas that are our usual coffee and smoothie haunts.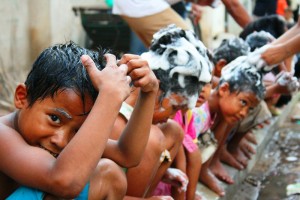 Having been so caught up in exploring a new city, we occasionally forgot where we were – and that the sides of Tuk-Tuks aren't windows. This led to a defenseless bag being snatched one fateful evening by the Riverside by Three Men on a Bike (we think this would make a great sequel to Jerome K Jerome's famous work, Three Men on a Boat, only more crime and fewer dogs).  The plus side of this was the exciting field trip to the Police Station, in the capable hands of Chamnap. After being soundly ignored by the officers hard at working staring at Leonardo DiCaprio's boyish face in a dubbed version of Romeo and Juliet, we finally found someone to help us. We were ushered into his second-floor office, bashing our heads repeatedly on the damp, low ceiling. The tale was recounted, and we felt especially privileged to discover that we were the first people in thirty years of the policeman's experience to have been stolen from by not two but three men. We are so popular in Cambodia. Beloved by thieves, we are also still on good, if not better, terms with our other flat mates, the roaches. One even climbed into one of our beds, to stare adoringly from the opposite pillow.'