Migration: Risking Everything for a Better Future
As more than 258 million people now live outside of the country that they were born in, it is no surprise that migration has dominated headlines for over a decade. Although recent months have seen a media focus on Europe and Latin America, many countries that Friends-International works within are also impacted by this phenomenon.
Behind the Headlines
In Southeast Asia, one of the most common migration destinations is Thailand. The border between Cambodia and Thailand is not the only thing separating these neighbours. Life expectancy in Thailand is 7 years more than in Cambodia, and the average income is 5 times higher than that of its neighbour. It is little wonder that many people believe migrating will offer them the chance of better prospects for themselves and their families.
People living in poverty and difficult situations are often willing to undertake dangerous journeys and risky situations for the promise of a better life. As business across the Cambodian and Thai borders has increased, so too has the number of people travelling to seek the rewards that may be offered. The expansion of work opportunities on and surrounding the border is not the only draw for people. The bustling streets of Bangkok seem to offer a multitude of opportunities and are a magnet for many families and youth looking further afield to create a brighter future for themselves.

Those that make the journey often find that the work available is not what they expected. They may end up working in local markets or resort to begging. Getting official documentation is expensive and many families are unable to cover this cost, choosing instead to work undocumented. This puts them at risk of labor exploitation and they can become trapped in abusive work conditions. In 2017, the International Organization for Migration identified that as many as 8 in 10 Cambodian migrant workers experience some form of rights abuses whilst abroad.
Life as a Migrant on the Border
Undocumented migrant workers, families and young people are exposed to a variety of abuses and levels of neglect in the country they have moved to. They cannot find suitable accommodation, access to healthcare, and education. In 2018, Friends worked with more than 2000 people in Aranyaprathet (Aran), a small border town in Thailand. Many of the people we work with there, hope to find better job prospects and earn more for themselves and their families. Over 25% of individuals we helped last year were youth, who we supported through providing services such as education and health.
Many of those had left their homes and families in Cambodia behind and were alone. The high cost of documentation required to work in Thailand leaves them extremely vulnerable. Our #EverydayHeroes in the area help prevent the exploitation and abuse of these young people. ChildSafe agents work within local communities to identify and prevent risks or abuses of children and youth. Our social workers in Aran help to support families and youth both in Thailand and across the border in Poipet on the Cambodian side.
These social workers are key in helping to protect children, youth and their families as well as supporting the wider community. As many of the marginalized children we work with in the area are illegal migrants, these #EverydayHeroes also help to promote and protect the rights of those held in detention centers. The teams in Thailand and Cambodia work together to help reunite separated children with their families. The challenges faced in Aran and by people migrating are addressed by these dedicated teams of professionals trained in providing best practice services, many of whom have worked with us for over 10 years.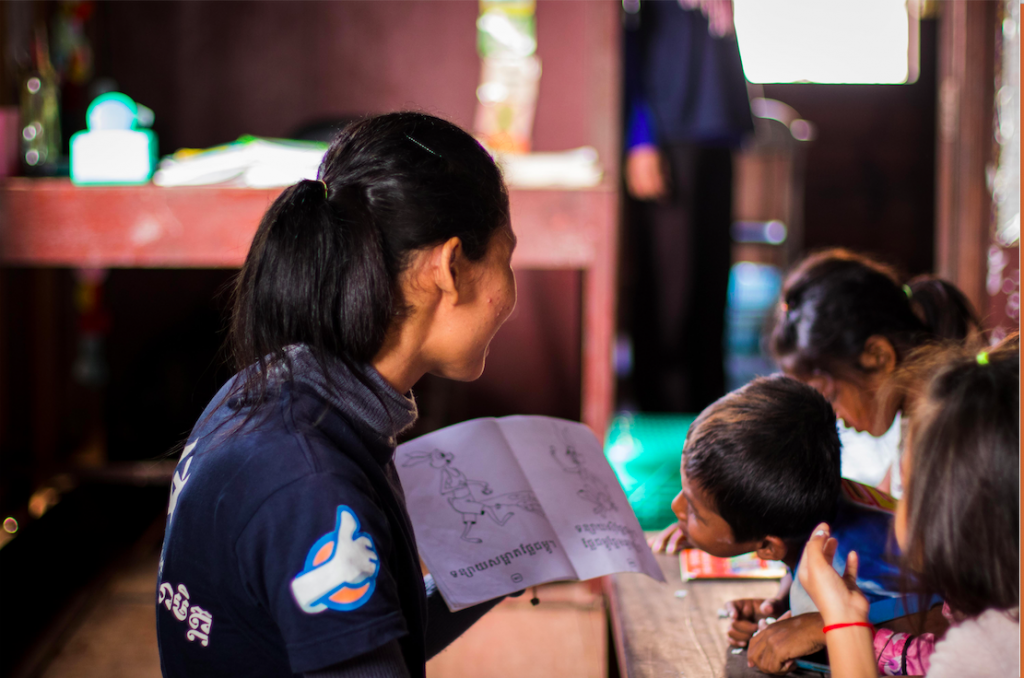 Reunited with Mom
One young girl our social workers recently supported was Rany. When we first met her she was only four years old but had already experienced unimaginable challenges. Not long after she was born, her parents migrated to Poipet to work on the Thai side of the border. They would cross the border every day to work in the local market. Although they earned very little, they were still able to earn more in Thailand than they could in Cambodia.
As a young child Rany's parents separated, with her father choosing to stay in Poipet and her mother moving to Bangkok in search of better work and income for her daughter. She made the difficult decision to leave Rany to be cared for by her father and her step-mother. For two years this was the family set up that Rany was used to, then her mother returned to the border area in 2018 to be closer to her daughter. This caused a family feud which resulted in young Rany getting caught up in the middle. Insecurity, jealousy, and rage led her step-mother to abuse and assault the child leaving her with severe injuries. One day, Rany was left alone and found her way to the main area of Poipet where one of our social workers identified her and was able to take her to the hospital and contact the police.
The support from the social workers at Friends has helped me to support my daughter without having to leave her side. I am so excited to know that I will be able to see her start school next year!
Many vulnerable people live along borders, and the communities in Poipet and Aran are no different. The social workers supported Rany's mother and father, facilitating a development in their parenting skills and responsibilities. Her step mother was arrested and Rany will now no longer be the focus of the family feud. Reunited with her mother, Rany will be supported to go to school next year. Our team of social workers continue to support both Rany and her Mom. Her mother has been offered support to find employment opportunities which do not have to include the risks of migration and will provide greater stability to Rany.
Migration holds so many challenges and forces people to take risks that they normally wouldn't. Rany's mother believed that migrating to Thailand would provide her daughter with more opportunities, but instead she left her daughter in a vulnerable position resulting in her harm. Our #EverydayHeroes work with unaccompanied youth to provide them with options. We also work with parents to give them the opportunity and support needed to find employment that will help the family to thrive.
Images ©Pierre Raimond