Make This Your Moment To Act
Giving to an organization is a great opportunity to support those in need, contributing to a good cause helps us to feel like an active member of our global community. Here at Friends, we believe that all children and youth deserve the right to a brighter future and you can help make that happen!

We always need support from people in the wider community to make our work a reality. No matter where you are in the world, getting involved with Friends is easy – and fun! We have lots of ways that you can help to make our work a reality for more young people across Southeast Asia.
How You Can Make an Impact
Without a doubt, direct donations continue to be one of the most impactful and efficient ways you can help to support young people have a brighter future. You can do this directly through our website.
However, if you want to take on a challenge, give differently, or to go the extra kilometer we have plenty of options!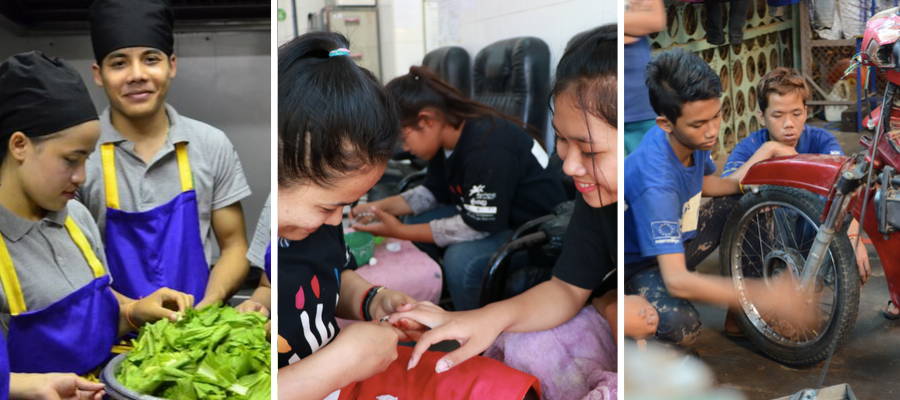 #RunWithFriends
If you're in Cambodia, Bangkok or Singapore this November and December why not join us for #RunWithFriends. Team Friends will be at different marathons to raise money for marginalized children and youth and we would love to have you with us! It is bound to be a unique experience and a great way to experience the cities, plus as a thank you for helping to raise money and awareness you'll be invited to our post-race celebrations with plenty of prizes and even more food! This year our Team are aiming to raise $40,000!

Deadlines are closing in fast for registration so make sure to get in quick! We have lots of information available on our website.
If you can't join us at these events why not run for us at a marathon local to you? You can also show your support to the Team by donating to them on our fundraising page!
Come and See Us!
If you're travelling through Southeast Asia you can also visit our restaurants and shops. Our restaurants are part of our vocational training and offer opportunities to our students to get first-hand experience. The food in each of our restaurants is inspired by the local community so it's a great way to get a taste for the local cuisine! You can also visit our shops where we sell our sustainable products and offer unique gift options and treats for yourself.
Plus if you're in Phnom Penh you can check out our Futures Factory where we have our beauty salon, the ChildSafe escape room, local market and much more!
#Ride4Good
Our friends at CamboTicket have made it even easier for you to #Ride4Good! If you are travelling through Southeast Asia, you can empower youth and protect children just by booking through CamboTicket. If you book through this link a percentage of your ticket sales gets donated to us!
Dinner with Friends
Next time you and your friends organize a get-together why not make it a fundraising event! Organize your own fundraising dinner party and simply ask your friends for a donation for all your hard work and to support a good cause. Anyway, it's a great excuse to get everyone together whilst also making a positive impact!
Need some inspiration? Check out some of our famous recipes in this cookbook!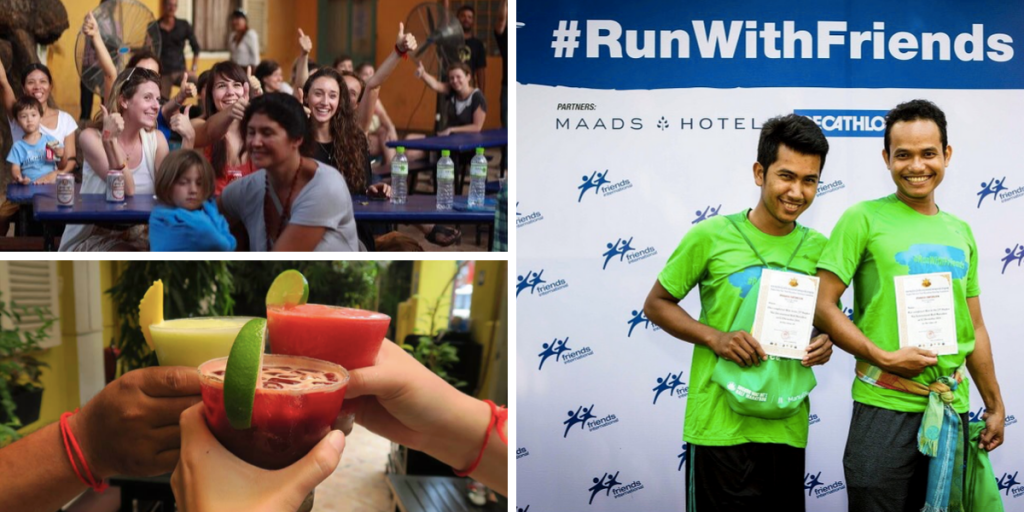 Get Down to Business
Are you a business owner? Customers love products that make a difference!
How about donating a percentage of a product's proceeds to help children in-need? This type of social responsibility, often referred to as cause-related or social marketing, shows your commitment as a responsible citizen to causes that matter. Help your customers feel great by offering socially-responsible products that can change a child's life.
If you are interested in discussing cause-related marketing opportunities, contact our partnerships team.
Browse the Web
Did you know you could donate to Friends without spending a penny? Lilo is an alternative search engine funding social and environmental projects. For each online search, you collect a water drop that you can donate to the project of your choice. Due to revenue from advertising, water drops then become donations to the projects you are supporting! Check out Lilo and donate your drops to Friends. Sorry to English speakers, our page on Lilo is only available on the french platform at the moment.
Spread the Love!
There are always other ways to give and different events you could organize but these are just a few! However, if you're feeling stretched on time and unable to give at the moment sharing our messages and campaigns on Facebook, Instagram and Twitter also helps to build awareness and generate more support! Follow us and keep your friends updated too!
Giving Your Talents
We love volunteers! On our website we will advertise our volunteer positions, but if you have a particular skill that you think we could use, please contact us. Often we require expertise in a wide range fields, such as fashion designers, journalists, copywriters, graphic designers, film-makers, web developers, and more! So, if you want to give some of your time – even remotely – get in touch!
Please keep in mind that we do not promote or engage in "voluntourism" involving children.
Together we can help to build futures and empower the children, youth, and families we work with!