Join the ChildSafe movement
WHAT IS CHILDSAFE?


Wherever people travel they become immersed in a new community and what they do and how they behave there impacts upon that community, especially on the children. In countries where the protection of children is not very strong this impact is even greater. The ChildSafe Network works to ensure that this impact is a positive one. It is a global movement protecting children from all forms of abuse, created and powered by Friends International, a leading child focused International NGO and social enterprise at the forefront of work with underprivileged communities in Asia.
Let's take an example – a tourist confronted by a begging child or a child seller faces a dilemma – should they give them money, should they buy from them? ChildSafe advice is no – Tip 2 from the 'ChildSafe 7 Tips for Travelers', a print and online child protection resource, outlines why, and what positive action can be done instead. By giving to them or buying from them, these children will continue being at risk, working on the streets every night facing many abuses, denied an education and a normal childhood. The 7 Tips are designed to educate tourists on how their behavior can impact on the lives of the children they meet, not just for a fleeting moment but it can reverberate down the years and affect their chances of becoming happy, stable, successful adults.
TOGETHER, PROTECTING CHILDREN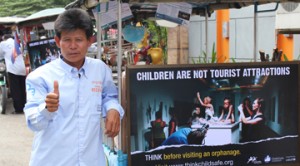 The ChildSafe Network couples collaboration alongside responsibility to achieve its objective of protecting children from all forms of abuse. Today, there are over 4,000 citizens across Cambodia, Thailand, Lao and Indonesia trained by ChildSafe in child protection. Many of these are from the travel industry. They know how to address issues faced by children in their own communities and are provided the tools to immediately respond to a child at risk of harm. They are uniquely placed to do this, as they range from hotel staff, local transport drivers, street product sellers, tour guides and others, all operating as members on a volunteer basis to help protect children.
It's not just Asia. The ChildSafe Network 7 Tips and associated campaigns are relevant everywhere, as children across the world have the same rights and all should be respected equally. The global tourism industry can support initiatives like ChildSafe to ensure sustainable practice and consider future generations, everywhere.  Over 4 million travelers to date have been exposed to ChildSafe information since its implementation. We continue to work alongside the tourism industry, strengthening current partnerships and inviting new ones to work together with us to protect the world's children from abuse.
TAKING ACTION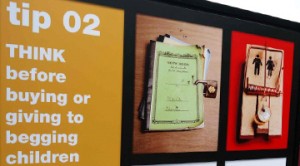 ChildSafe is also about direct action, using the tools and resources at its disposal to protect children. During 2012 ChildSafe Network members' actions directly protected almost 8,000 children. Actions resulted from calls to our 24/7 hotlines, interventions by trained members in suspicious situations and learned responses, with all actions always being in the best interests of the child.
The communication of responsible practice to the over 1 billion global travelers annually will provide a huge positive impact on child rights. Behavior change by tourists, driven by ChildSafe messages and reinforced by ChildSafe tools will help break the cycles of poverty that keep children working on the streets, vulnerable to being trafficked, forced into labour, experiencing physical and emotional abuse, being exploited by adults for financial gain or many other abuses. There are real alternatives available – . ChildSafe encourages tourists to disengage in potentially harmful behaviors and consider other options, such as supporting productive, sustainable programs often available locally or in the global development industry that have more beneficial results for these children and their families.
JOIN THE MOVEMENT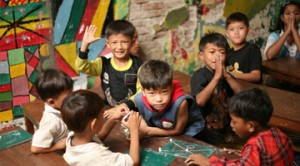 We can all be ChildSafe, and join the movement to protect the world's children – from the individual traveler, the taxi driver, the tour guide, hotel chain, right up to the major global travel agencies and carriers.  It makes great business sense also, as it's not a corporate social responsibility, it's a human social responsibility that we all share, and ChildSafe can provide you or your business or your organization with the tools needed to play your part in protecting the children of our world. Please contact us directly at childsafe@friends-international.org. For more information on how you can be with us.
Together, protecting children.